In a few hours, longtime former UFC featherweight champion Jose Aldo will meet current champ Max Holloway in the main event of UFC 218 from Little Caesars Arena in Detroit to determine the future of the UFC 145-pound landscape for the immediate future.
Aldo somewhat fortuitously received a rematch of their first meeting where Holloway won by TKO at June's UFC 212 when former lightweight champion Frankie Edgar was forced out of the fight with a broken orbital bone suffered in training. Many fans clamored for exciting veteran Cub Swanson to finally get his first crack at a UFC title, but in the end, there was no one else but Aldo who could replace Edgar, due to the simple he is arguably still the most decorated featherweight in MMA history.
The deserving MMA legend had a jaw-dropping undefeated streak from May 2006 to December 2015 spanning over nine-and-a-half years as he won the WEC title, defending it twice before the promotion was absorbed by the UFC and he defended that title an unprecedented seven times before losing it to Conor McGregor via shocking 13-second knockout at December 2015's UFC 194.
Aldo then won the interim title by defeating Edgar by decision for a second time at UFC 200, and that title once again became the official belt when McGregor was stripped of it shortly after winning the lightweight title at 2016's UFC 205. In his first defense, he lost to the clear future at featherweight in his first meeting with Holloway.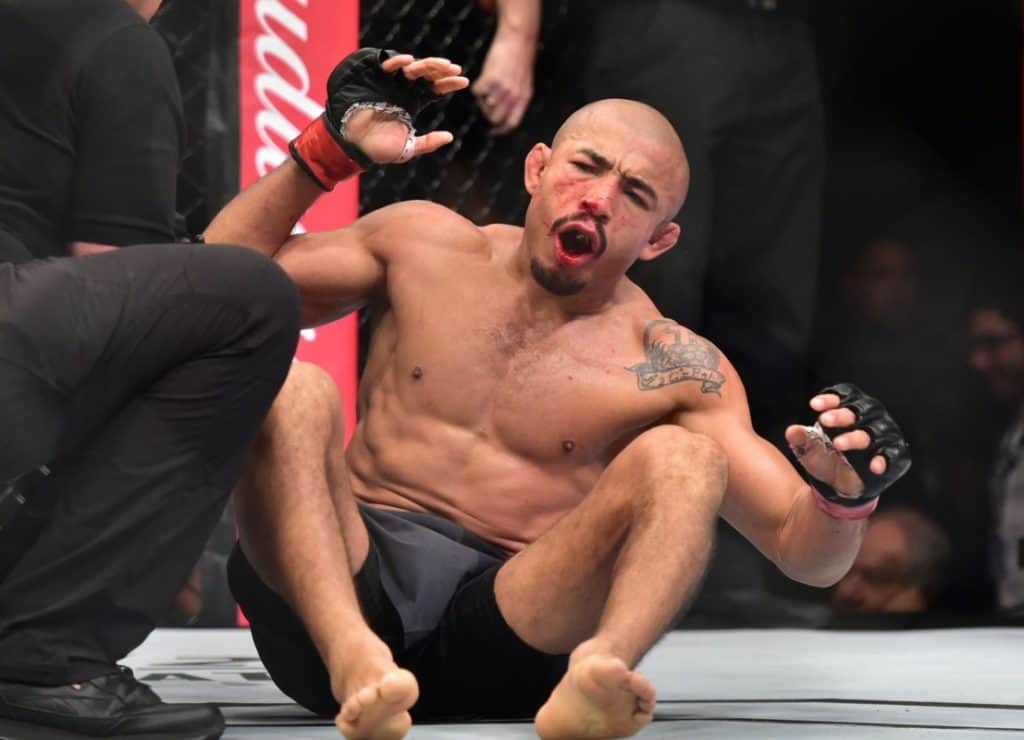 This is obviously the way of the fight game, as young, talented top-level prospects eventually rise up and take out the once-great champions in every division. It is always merely a matter of time.
The ultra-impressive 'Blessed' has shown an uncanny ability to adapt and demolish during his unbelievable 11-fight win streak, something that was never before apparent when he clearly lost the first round to Aldo at UFC 212, may have lost the second by a much closer margin, and then stopped the arguable G.O.A.T. There's now a strong case to be made that the budding Hawaiian star is now the strongest pick for that specific barnyard animal, however.
That's what makes this fight so pivotal for Aldo because Holoway is his biggest rival. If he loses to the champion twice in a year, it's going to be next to impossible for Aldo to get a third crack at "Blessed;" it just doesn't really happen at the top level of pro-MMA all too much.
Nova Uniao's star student isn't necessarily old at 31, but he does have a ton of tread on his tires from repeated injuries that have forced him to pull out of multiple title fights. He's also admitted to coasting to victory in during his long streak of defense in order to keep the cash rolling, yet he has nothing even close to that luxury tonight.
Lose and he could always pick his long-rumored move up to lightweight as his next move, but it's almost as difficult to envision him getting a title shot anytime soon there, mostly due to the fact that McGregor is champion and a rematch with Aldo wouldn't be an easy sell with two consecutive losses to the champ a weight class below. McGregor could unify the titles with interim champ Tony Ferguson, or he could face Nate Diaz, and then there are contenders like the winner of December 30's Khabib Nurmagomedov vs. Edson Barboza match-up who would all be ahead of Aldo in the crowded 155-pound rankings.
It makes the UFC 218 main event a must-win bout for the once-indestructible featherweight from Rio de Janeiro, who grew up on the streets with little to eat and is truly one of MMA's great rags-to-riches tales. He's shown he can damage Holloway, and even if he wins, a trilogy will most likely be imminent. With two knockout losses in his last three fights, the road back to supremacy is indeed a long one for Jose Aldo, but his time at the top will almost assuredly be over if he doesn't win at UFC 218.
He will always be one of the sport's greats, nothing will change that.
But UFC 218 may still be Jose Aldo's last stand.