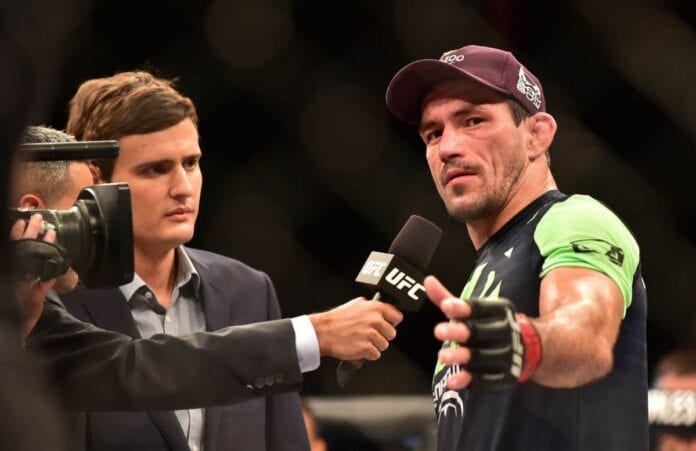 Demian Maia picked up his third-straight victory at this past weekend's (August 1, 2015) UFC 190, scoring an impressive second-round rear-naked-choke over the previously surging Neil Magny. The Brazilian jiu-jitsu guru is currently ranked No. 6 in the welterweight division, and with his current win streak, he should have a huge fight waiting for him on the horizon.
Although he is probably a fight or two away from a UFC title shot, Maia recently spoke up about welterweight champion Robbie Lawler with MMAJunkie, noting that the only way he could beat the "Ruthless" one would be on the ground.
Maia is one of the best grapplers the sport has ever seen, and he admitted that Lawler's hands were heavy, but claimed if the fight did indeed end up on the ground, then he could beat the champion, or anyone in the division for that matter:
"In my case (the ground is) the only way," Maia said about his strategy in a potential bout against Lawler. "I'm not going to exchange punches. His hands are too heavy. You see what he did in his last fight. He's tough. He has a big heart and it's hard to take him down. But if I'm able to take him down, I know I can win. I can do that to pretty much anyone in the division."
Lawler is coming off of a brutal fifth-round TKO victory over Rory MacDonald at UFC 189, which has now been deemed one of the best fights in the history of mixed martial arts (MMA), and Maia stated that of course the champion is tough, and it would be a difficult fight.
Maia closed by saying that Lawler deserves to wear gold, but that he would love to fight the champion one day:
"(The fight would be) pretty tough," Maia said. "Of course, he's tough. He's experienced, he's not young. He has a lot of experience. What he did to Rory (MacDonald at UFC 189)? Rory's great. I fought him, I know he's great. And he was winning the fight and Robbie was able to pull the win in the last round. Robbie is a guy with big heart, he's hard to take down, heavy hands, he deserves to be a champion. I wish I can fight him one day for the title."
Despite his world class mat skills, could Maia really challenge the animal that Lawler has turned into?