One of the biggest rematches the mixed martial arts (MMA) world can see today, is a rematch between formerly undefeated female bantamweight queen Ronda Rousey, and the women to hand her the first professional loss of her career, Holly Holm.
Holm defeated Rousey in their bantamweight title bout headliner at UFC 193 from Melbourne, Australia in November of last year, after the former kickboxing champion was able to pick apart 'Rowdy' with her superior stand-up game, leading to a second round knockout via head-kick.
Since then Rousey has not seen Octagon action for over a year, and after two consecutive losses since beating Rousey, Holm will now challenge Germaine de Randamie for the inaugural women's featherweight title at UFC 208 on February 11th of 2017. During a recent media scrum, courtesy of FOX Sports, Holm discussed the possibility of a rematch with Rousey:
"I don't think about it because there's a lot that has to happen," Holm said. "That's what I say when people ask me about it. 'Hey don't you want to rematch Ronda?' and I'm like well there's a fight that's taking place Dec. 30 and there's still a fight taking place Feb. 11 and depending on how both of those go, that could be the make or break of everything, who knows what will happen in three months.

"Anything can happen in three months."
Before any talk of a rematch can seriously get underway both women have tough tasks ahead of themselves. Rousey must successfully return to Octagon action when she takes on Amanda Nunes for the 135-pound title later this month. The bout should prove to be an interesting one, as it will be the first contest MMA fans have ever seen Rousey in after coming off of a difficult loss:
"I feel like everybody deals with losses different. Maybe time away for her and talking with everybody is what she needs. For me, the way I've dealt with it and had to come back from it, I'm coming back from it right now, the only thing that's ever helped me is just being completely honest with myself," Holm explained. "I figure the sooner I can deal with it, the sooner I can get past it.

"So I'm the type so let's just address this right now but I do think coming back from a big loss, I've had some big losses before and I know being knocked out cold, being laid out, going back those first punches in a fight are like am I OK? Am I OK? Why am I even asking myself this? I'm OK. Let's go! I think that's a make or break moment. Ronda's never been there in a fight before so I don't think there's anyway to tell how she's going to be in those first exchanges until it happens."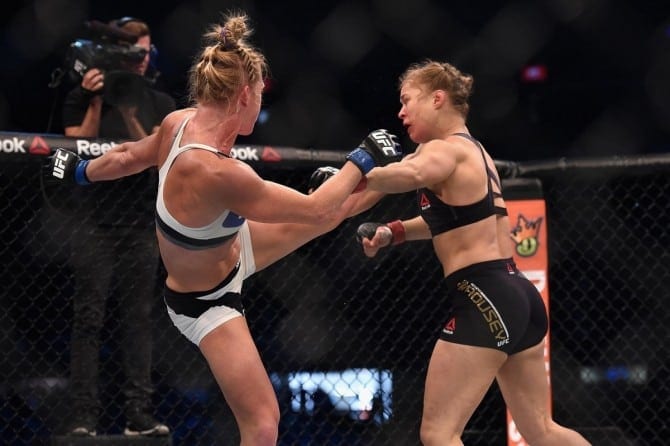 Although she accomplished one of the biggest upsets in the sport's history, Holm followed it up with what she calls 'the worst year' in her fighting career in 2016. After dropping the bantamweight title to Miesha Tate at UFC 196 in her first ever career title defense, and following it up with a unanimous decision loss to Valentina Shevchenko, Holm is ready to once again find her time to shine inside the Octagon:
"When I think about this year, I think about my year and it's been the worst year for me," Holm said. "2016 was not successful for me. I don't think about anybody else actually. This November everybody's putting out on social media 'oh my gosh it's been a year, congratulations Holly' and all I'm thinking is it's been a year since I won.

"As much as that was a big night for me, I'm ready for my own time to shine again and I guess I really haven't thought a lot about it."
Holm will meet De Randamie at UFC 208 for the inaugural women's featherweight title live on pay-per-view (PPV), from the Barclays Center in Brooklyn, New York on February 11, 2017.