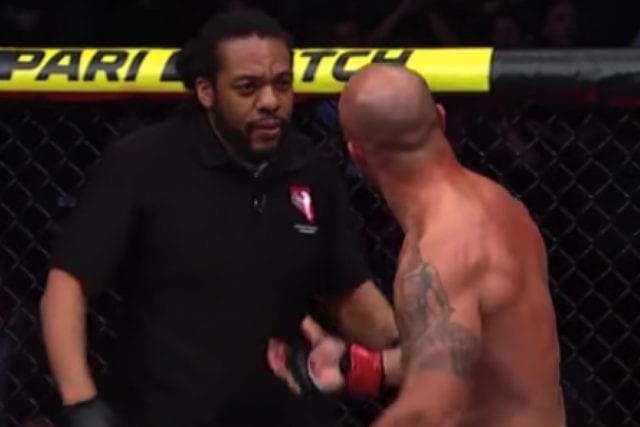 Former UFC welterweight champion Robbie Lawler lost to Ben Askren in incredibly controversial fashion at last weekend's (Sat., March 2, 2019) UFC 235 from the T-Mobile Arena in Las Vegas, Nevada.
The veteran slammed Octagon newcomer Askren on his head early in the first. "Ruthless" immediately followed to the ground with some vicious shots to the point the fight was nearly stopped. But somehow "Funky" persevered, eventually locking on a tight bulldog choke on Lawler.
Referee Herb Dean thought Lawler went limp and the fight was called. But he immediately protested instead, proving he was not out and causing major controversy. Askren celebrated, but Lawler argued with Dean – at least at first. The former champion wants a rematch with Askren, but "Funky" isn't biting right now. Dana White does want it, so we'll see what happens. For now, the fight is simply going to rate as a controversial, oft-debated stoppage.
Regardless, Lawler was all class.
In the UFC 235: The Thrill and the Agony Video, Lawler's post-finish talk with Dean can be seen and heard (via Bloody Elbow):
Lawler: "What the [expletive] are you doing?!"
Dean: "I thought you…"
Lawler: "I didn't. What the [expletive]?!"
Dean: [Inaudible]
Lawler: "I know. It's alright."
Askren to Lawler: "Hey, I love you Robbie. I had to fight you."
Lawler: "Herb. Herb. Hey. Hey, don't [expletive] worry about it. You're a [expletive] hell of a ref.
Dean: "No, man. No. I don't understand how, like… I saw your arm (go) limp, I grabbed it. But I didn't know."
Lawler: "and then I gave you a thumbs up."
Dean: "I didn't know. I didn't see you give me a thumbs up."
Lawler: "It happens man. If [expletive] happens."
Watch it here:
If you enjoyed this story, please share it on social media!