Randy Costa submitted in less than 2 minutes by 42-year-old Guido Cannetti – UFC Vegas 61 Highlights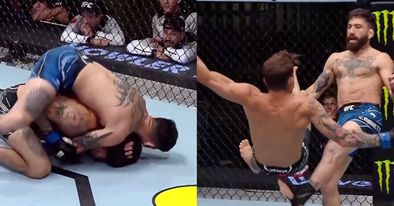 Turning in one of the fastest submission wins in the history of the UFC bantamweight division, veteran contender, Guido Cannetti knocks back the upcoming, Randy Costa — latching onto a first round rear-naked choke to open UFC Vegas 61 at the UFC Apex facility.
Tasked with opening the organization's return tonight in 'Sin City' — without fans or media in attendance, Cannetti, an Argentine veteran managed to catch Costa coming in off the back of a front kick attempt, dropping the latter to the canvas with a well-placed low kick.
Immediately jumping to Costa's back, Cannetti, who turns 43 years old at the end of this year, fought the hands and managed to secure hooks on Costa, forcing an eventual tap to land his second straight victory following a prior knockout win against promotional alum, Kris Moutinho.
Below, catch the highlights from Guido Cannetti's win over Randy Costa