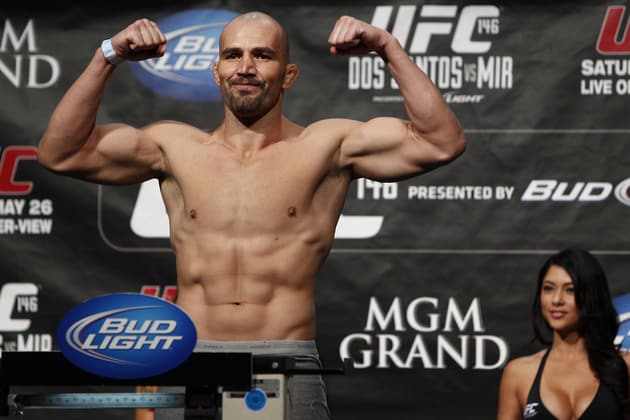 Racking up five straight wins from 2012-2013, Glover Teixeira was supposed to be the next big thing at light heavyweight in the UFC.
However, his hype came crashing down when, after he earned a title shot by knocking out surging competitor Ryan Bader at September 2013's UFC Fight Night 28, he lost a completely one-sided decision to then-dominant champ Jon Jones in the main event of April 2014's UFC 172.
Teixeira's downward slide continued at UFC 179 when he was thoroughly outwrestled by Phil Davis while still suffering from a shoulder injury suffered against Jones.
Undeterred, the Brazilian bomber got back into his training after a nearly 10-month layoff, and rebounded well with a thoroughly lopsided submission win over hometown favorite Ovince St. Preux in the main event of August's UFC Fight Night 73 from Tennessee. Now, Teixeira is looking to claw his way back to a title shot, and that trek starts with his co-main event bout against No. 9 Patrick Cummins at this Saturday's (November 7, 2015) UFC Fight Night 77 from Sao Paulo, Brazil.
Teixeira's countryman Vitor Belfort will take on Dan Henderson for a third time in the main event, and while 'The Phenom' demolished Henderson in their second match in November 2013, Teixeira still believes he can knock out Cummins in a short amount of time than Belfort can dispatch 'Hendo.'
He told Sportv that he is so confident in that he wants to make a diner bet with Belfort, with whoever scores a KO first footing the bill:
"He (Patrick Cummins) is a tough guy, but I will look for the knockout all the time. And I will make a bet with Vitor Belfort, the same one I made with Jose Aldo before. Whoever knocks out their opponent first, the other one will have to pay for dinner. If I get a knockout in less time than him, he pays, if he knocks out first, I pay."
Teixeira should have a good shot at attaining his goal, as Cummins is a decorated and smothering wrestler but has a very questionable chin as witnessed in his knockout losses to champion Daniel Cormier and St. Preux. Belfort has not agreed to the bet as of yet, but it sounds like Teixeira could have another customer in featherweight champ Aldo, who takes on Conor McGregor in the main event of December 12's blockbuster UFC 194.
'The Phenom' is looking good heading into his trilogy match with 'Hendo,' but Teixeira is in top shape as well. Who would be your pick to win their bet?