GLORY Kickboxer Hospitalized In Thailand With Strange Illness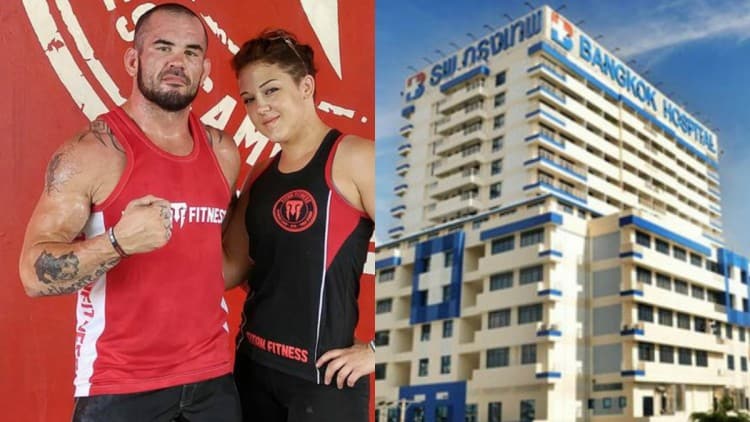 When GLORY kickboxer Chris Trammel recently suffered a staph infection during a trip to Thailand with his girlfriend, Invicta FC fighter Maureen Riordon, he most likely didn't think he'd end up in intensive care with his future uncertain.
Trammel has been bleeding from both his kidneys and lungs, and doctors in Phuket are still trying to figure out the cause of his serious ailment. Riordon detailed the harrowing scene in an email to MMA Fighting:
"They still haven't discovered the cause of the bleeding from his lungs so I'm unclear what that will mean procedurally or financially. Once the bleeding stops everywhere he will remain in the hospital a few more days for observation and then will be allowed to leave. However, he won't be considered fit to fly for 14 days after release from the hospital."
The couple traveled to Thailand last month on October 12, and were aiming to make their way back to their native Boulder, Colorado this upcoming Thanksgiving weekend, but now Trammel won't be deemed fit to fly until at least two weeks after he is released from the hospital. He has been moved out of the intensive care unit, but many questions still remain about the specifics of his condition.
His struggle, according to Riordon, could be linked to them both acquiring a staph infection, of which Trammel's was the more serious. He had a serious case that was close to affecting his joint capsule, and then came a thought-to-be innocuous scooter accident. Trammel told Riordon his scooter had merely tipped over, but she deemed to be acting a bit delirious and took him to a local hospital as a result.
There, Trammel's spleen ruptured and had to be surgically removed, and his kidneys began bleeding. The same thing unfortunately transpired from his lungs, although doctors could not and are still unable to figure out why. It's understandably been a harrowing and unpredictable time for both Trammel and Riordon, who are kickboxing instructors at Easton Training Center in Boulder, but the Invicta competitor is staying stalwart in her support for her boyfriend:
"I'm tired, frazzled, panicked," she said. "All unexpected emotions, but I have refused to be anything but strong for Chris. Now that he's been released from ICU and I can actually be one of his nurses, I'm doing much better. I don't like leaving him and they require a medical assistant for every patient so that's what I am for him now. I actually sleep on the floor by his bed."
A gofundme.com account has been set up in Trammel's name, with donations already reaching nearly $37,000. His financial costs are currently unknown. Riordon said that Trammel is doing better after being moved from the ICU:
"We're still waiting to find the cause of bleeding and the source of infection that has caused him to run a continual fever for six days," Riordon said. "However, he is showing signs of improvement."
We here at LowKick MMA wish Trammel nothing but a speedy and effective recovery as he fights this harrowing battle, and our thoughts go out to Riordon as she attempts to navigate this tenuous situation.
Photo of Chris & Maureen courtesy of Facebook