Gilbert Melendez Considering Drop Down to Featherweight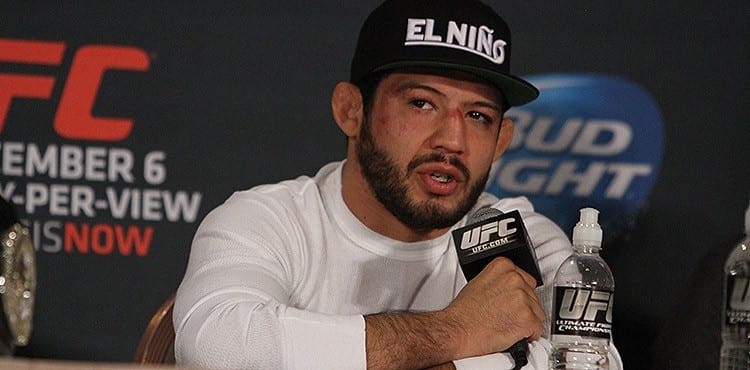 Former Strikeforce lightweight champion Gilbert Melendez hasn't had the most successful run in the UFC since he joined the promotion in 2013.
Losing four out of his past five fights, "El Nino" has struggled to replicate the success that once had him in the conversation of the best 155-pound fighter in MMA. Melendez, who is now 34 years old, is considered by many to be on the back end of his 15-year fighting career, after his loss to Edson Barboza in July of last year, it was uncertain if we would ever see the former "Scrap Pack" member set foot into the octagon again.
In a recent interview with MMAJunkie Radio, Melendez revealed that he plans on moving down to featherweight and making "one last (title) run." Melendez has fought at 155 pounds for the majority of his career and hasn't competed at 145 pounds or below since 2005, but with his career currently at a standstill, he believes it's time for a change:
"Until I book a fight at 145, I can't really confirm that (I'm dropping), but yeah, that's my goal right now, I'm trying to slim up. I'm really trying to diet and lose this fat around the belly a little bit more and really maximise my body's potential. Once I get to that point, which should be in the next few weeks, I'll really be able to make that jump and make that big decision. That's my goal, is to make 145. That's what I'm working on right now at this point."
Melendez hasn't reached out to the UFC to discuss it with them yet but says he is "trying to get ready mentally, physically" first and believes that he is nearing that point.
"I haven't really reached out to them to tell them exactly, 'This is what I want and what I'm going with,'" Melendez said. "I haven't got to that point yet. I'm trying to get ready mentally, physically. I'm trying to get to that point where I'm just about there, and I'll be reaching that soon and be able to pull the trigger on this."

"I'd like to prove I'm one of the toughest in the division with a solid opponent who is willing to fight me and not stick and move, If I can get that, it would be great. I'm looking for one last (title) run."
Melendez believes that moving down a weight class can rejuvenate his once illustrious career because he can genuinely compete with the killers at 145 pounds. It's easier said and done to drop down a weight class, however, as we've seen it with Anthony Pettis.
Fellow former lightweight champion 'Showtime' dropped down to 145 pounds to fight Charles Oliveira before meeting Max Holloway  for the interim 145-pound belt at UFC 206. Pettis missed weight and then went on to lose the fight by TKO in the third round. And obviously all-time great lightweight BJ Penn's return to featherweight didn't play out all that well with two brutal TKO losses to Frankie Edgar and Yair Rodriguez.
'El Nino' will try to reinvent himself as a lower weight class as so many other fighters have tried to do in recent years. Will he find success where other big-name fighters have failed?