Georges St-Pierre sees Khabib as a 'very attractive' opponent for his UFC Fight Pass Invitational debut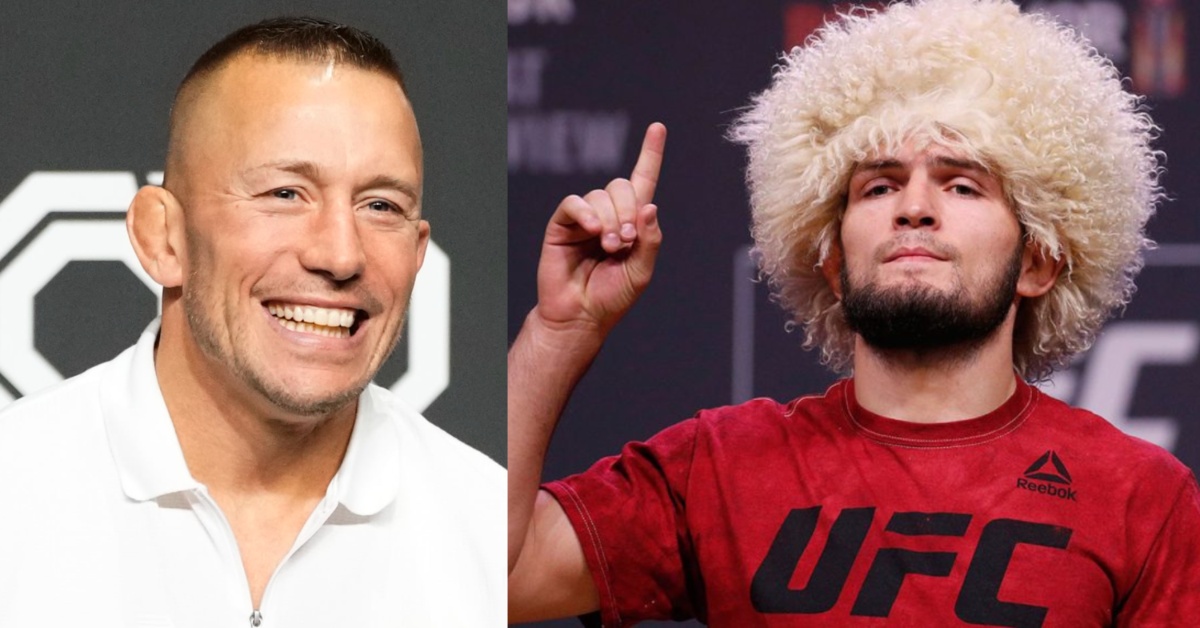 Former two-division UFC champion Georges St-Pierre is eyeing a high-profile opponent for his highly anticipated return to combat sports.
'Rush' recently revealed that he will compete at the sixth UFC Fight Pass Invitational event on December 14. Currently, St-Pierre is the only athlete announced for the event, but high expectations have already been set when it comes to his opponent. While walking the red carpet at the UFC Hall of Fame Ceremony on Thursday Night, GSP was asked who he would like to compete against if given the choice between Khabib Nurmagomedov, Kamaru Usman, and Anderson Silva.
"They are all very attractive, but everyone has a different agenda," St-Pierre said. "Some are training for upcoming title fights. Some are maybe too heavy. Some are too light. Some just retired and have nothing to do with competition. I received a list from the UFC today. We're gonna check and look at who's available and make a decision with the UFC and with my people to make sure we go up against someone they think the people want to see me compete against."
Georges St-Pierre Drops Some Details on The List He Received from the UFC
While St-Pierre couldn't confirm any of the names on the list he received, he did reveal that at least one of the names offered up is on the promotion's short-list of potential opponents for his return to the mat. Unfortunately, one of those names is not former lightweight world champion Khabib Nurmagomedov. Even so, GSP didn't rule out the possibility of facing 'The Eagle' someday.
"There's a lot of other potential interesting matchups, but everybody has a different agenda. A different schedule and we'll see. Khabib's name was not on the list, but I have to make sure to see who's available," GSP revealed.
That leaves either former welterweight king Kamaru Usman or 2023 UFC Hall of Fame Inductee Anderson 'The Spider' Silva.
Anyone who was a fan of mixed martial arts in the early-to-late-2000s likely looks back on the individual reigns of St-Pierre and Anderson Silva fondly. The two men ruled their divisions with an iron fist and were tied to a potential superfight inside the Octagon for many years. Unfortunately, the bout never came to fruition, but fans could still get a chance to see the often-debated dream match in the world of submission grappling.
No matter who St-Pierre squares off with, the ultimate goal is to help promote the UFC's Fight Pass Invitational events and the sport of Brazilian jiu-jitsu.
"My goal is to [turn] this event into a much bigger event and I'm here to promote it," he continued. "I will do the best I can and maybe once it's started, some guys will look at it and say, 'Hey, I want to be part of it as well.'"