It's been a long, confusing saga concerning longtime former UFC welterweight champion Georges St-Pierre's octagon return.
The legend, whom many consider to be one of the top three of all-time, has been out of fighting since he vacated the belt in the aftermath of a controversial split decision win over Johny Hendricks in the main event of November 2013's UFC 167.
""Rush" repeatedly teased a return over the next four years, but that potential was seemingly realized when the French-Canadian superstar unveiled his intention to come back and face middleweight champion Michael Bisping at a weight class he had never fought at before.
A press conference, where Bisping played the perfect part of a drunken heel to St-Pierre's usual clean-cut superhero fan favorite, was set up and given to fans days prior to March's UFC 209. But while the UFC wanted the fight to go down this month, St-Pierre repeatedly insisted he couldn't fight until after October at the earliest. When he did so publicly online, UFC President Dana White was quick to say that they would now pit Bisping against Yoel Romero.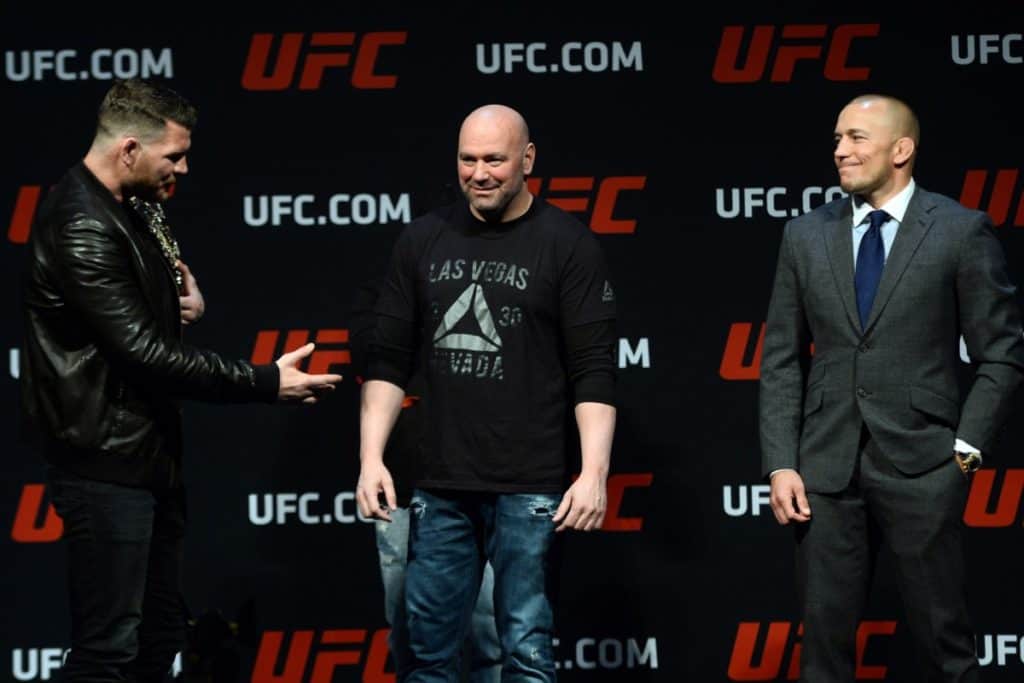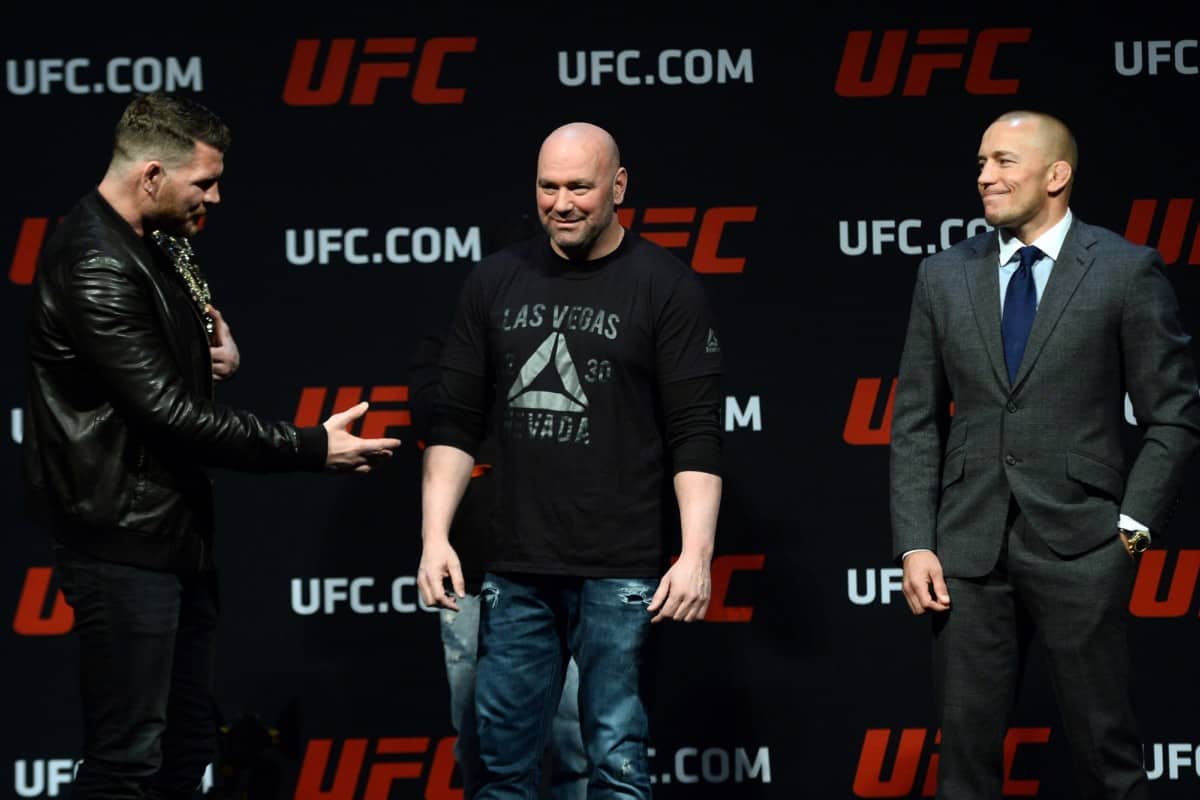 There was a big problem with that plan, however, as Bisping was still healing from the knee surgery he had in the months after his first title defense, a close decision call over then-No. 14-ranked archrival Dan Henderson. With a vast part of the MMA world calling for Bisping to defend his belt against the rightful challenger Romero, his injury paved a path for this Saturday's Romero vs. Robert Whittaker interim title fight at UFC 213. White went on record again to say that St-Pierre would fight the winner of this month's Tyron Woodley vs. Demian Maia bout at UFC 214.
We can take that with a grain of salt, of course, and it's clear Bisping is holding out to not only get his knee healed up, but also to hang on to that elusive monster payday that comes with fighting St-Pierre in his return bout. He's admitted as much, and as a prize fighter who's paid his dues arguably more than any other UFC athlete in the promotion's history, he deserves that. The timing is just bad, because he makes it seem like he's ducking Romero – or maybe Whittaker – which, in a sense, he may be.
Today, news has come that he may just get his wish. According to MMA Fighting's Ariel Helwani, "GSP" texted both "The Count" and White, issuing a challenge for Bisping to battle him at the UFC's planned pay-per-view (PPV) event at Madison Square Garden in New York on November 4:
"Michael, you should man up and fight me 11/4 in NY," St-Pierre wrote. "I'm coming out of retirement to retire you. Dana [White], please make it happen."
Regardless of if you agree with how St-Pierre has behaved during his comeback, he does have a strong point in that he is a legend coming out of retirement for what he thought was a fight versus Bisping, even if it is just because he views the longtime vet as the easiest path to becoming a two-division champ the quickest.
The UFC promised him and Bisping that fight, and no matter how many fans complained about it, they would obviously pay to watch what would be a monstrous title bout in a year when MMA and the UFC needs one more than perhaps any year in recent times. The mistake came when the promotion's new ownership may have realized it and announced it with a presser early in the year even though St-Pierre had apparently told them he had an eye injury that kept him out of sparring until late fall.
Either way, however, the payday still looms and a fight with Romero or Whittaker just doesn't have the same luster as facing an all-time legend – and a proven PPV superstar – in his long-awaited return. Are you ready to see this fight booked again?
Do you want to?