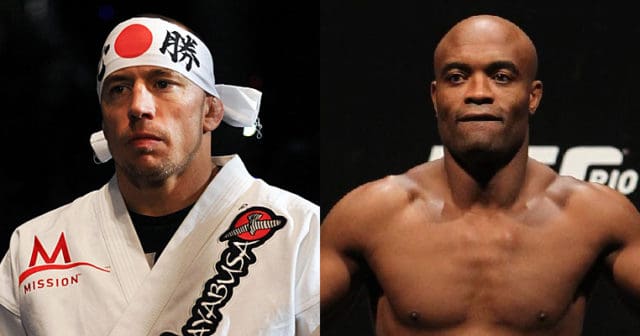 Former longtime UFC welterweight champion Georges St. Pierre will make his long awaited return to action later this year when he meets middleweight titleholder Michael Bisping at a date and venue to be decided. St. Pierre hasn't competed since UFC 167 in 2013 when he scored a highly controversial decision victory over Johny Hendricks, vacating his title and announcing his hiatus soon thereafter.
While the bout with Bisping is certainly an intriguing one, another possible matchup for St. Pierre's return would've been a clash with ex-middleweight king Anderson Silva. The two were often linked to a potential super fight when each was at the peak of his reign, but the bout never materialized.
According to "Rush", he was actually only offered the fight with Silva once, and that offer came after UFC 167:
"It is possible," St-Pierre said on a recent edition of the UFC Unfiltered podcast. "The truth is this: The only time I've been offered to fight Anderson Silva, formally – like formally – like a real offer, was after my fight with Johny Hendricks (at UFC 167) when I retired. It's not (that I turned it down) because it was Anderson Silva. I would not have fought nobody. You could have put a midget of 3-foot tall, (and) I would not have even fought him. I wouldn't want to fight. I was tired. I wanted to take time off."
St. Pierre also said that years ago he was interested in fighting Silva at a catchweight with the World Ant-Doping Agency (WADA) administering the drug testing. Unfortunately, the UFC didn't appear to be interested in this idea, with injuries to St. Pierre also preventing the super fight from happening:
"We talked about Anderson Silva many times with (former UFC CEO) Lorenzo (Fertitta) and (UFC President) Dana (White)," St-Pierre said. "What I wanted to do at the time – there was a big lineup of contenders in my division and what I wanted to do, if I would have fought him at the time because I would have had to defend my title too, I would have done it at a catchweight (of) 177 (pounds) with (World Anti-Doping Agency testing). Because USADA was not in place back then, and I wanted to do the WADA testing for performance-enhancing drugs.

"I think the UFC didn't really like the idea at the time. But then after I had to fight other guys, after I blew out my ACL then a lot of guys were waiting for me to come back. I didn't have a time to stop or the opportunity to (fight Silva)."
Silva is currently 41 years of age, but he recently got back to his winning ways with a decision victory over Derek Brunson at UFC 208 last month.
Would you still be interested in seeing "Rush" and "The Spider" do battle?
If you enjoyed this story, please share it on social media!