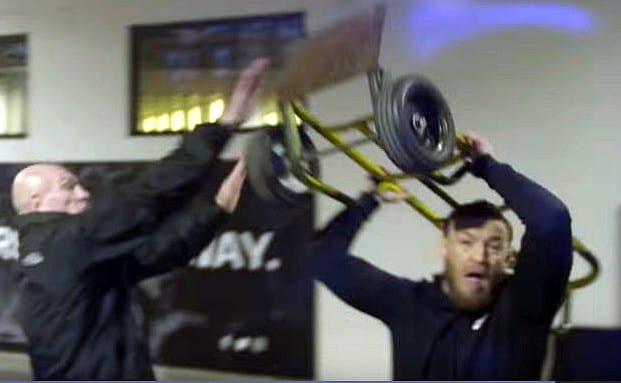 UFC 223 will forever be remembered for Conor McGregor's gang assault on a bus containing fighters attending a media day for the card.
Lightweight contender Michael Chiesa and flyweight Ray Borg were forced off of the card at the last minute after glass from the broken bus windows cut and damaged their face and eye respectively. The whole scene was complete bedlam, and McGregor is still dealing with the legal process of it. The former two-division champ will appear in court on June 14 in the next step to possible legal ramifications.
The whole scene erupted from a beef between Khabib Nurmagomedov and McGregor's longtime teammate Artem Lobov.
There was so much at work going into what was essentially an issue between McGregor and Nurmagomedov, who had physically accosted his SBG friend Lobov days earlier.
See the timeline and the full details for McGregor's bus attack in Brooklyn last month in this revealing video via MMA Mania:
McGregor will return to court in Brooklyn on June 14th as his case for charges of felony assault is adjudicated.

Considering the full details, does McGregor's actions here make any more sense? Or is he still just an egomaniac running around going completely unchecked?