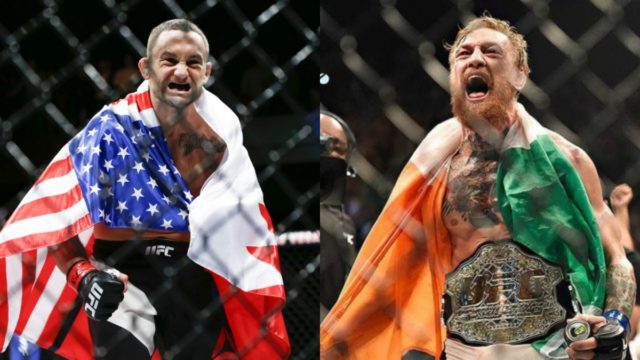 Both Conor McGregor and Frankie Edgar came through this week with similarly huge first round knockouts, and now they may be on a collision course…
UFC 194 played the role of the climactic pay-per-view card at the end of a 30+ fight week for the promotion, and boy did it deliver. Conor McGregor delivered with a stunning first round one-punch knockout against Jose Aldo, putting to rest a year filled with hype and anticipation for their featherweight unification bout. After a year filled with title upsets, McGregor adds his name to the list of new champions in 2015.
On the very same night that Chris Weidman was also debunked, the pound-for-pound king Jose Aldo fell from the first significant punch. It's true what they say, anything can happen in this sport. Also the victor after a top notch first round knockout this week, Frankie Edgar is once again in the title mix, although he's arguably deserved his second featherweight title shot for a while now. The former lightweight champion made mincemeat of Chad Mendes at The Ultimate Fighter 22 finals and, although Dana White actually left the crowd before Edgar's fight, the UFC president later said he can deny 'The Answer' no longer.
Speaking after the landmark win for McGregor, Edgar was disheartened at rumours that the Irish star would be moving to lightweight next, as he told MMAFighting.com:
"I mean, last night I was told I was getting the winner," he said. "Now I'm hearing a rumor Conor might go up, and then I heard in an interview that he might want to stick around and fight me, so I'm game."
"Of course, of course — you've seen it happen before and now I think I've seen it slip out of my hands, and I've seen it slip out of others hands before too," he said. "I've got to be ready for that, but I'm hoping for the best."
After huge wins in the 145-pound division, Edgar played second fiddle to Chad Mendes as Jose Aldo's UFC 189 replacement, and he clearly senses another let down in the near future. Could he be accurate with the comments by McGregor about fighting the winner of dos Anjos/Cerrone? He continued, with a clear message for McGregor:
"Again, it's up to Conor. It's up to Dana. We'll see. I think if he's thinking about going to 155, which is another rumor, he's got one more fight left, and that's me. I think I'm his worst match-up. I know it, and I think a lot of people know it. And I think he's got to fight that fight before he makes that move."
What are the opinions on the move to lightweight or a final featherweight thriller with Frankie Edgar for the new champ McGregor?
UFC 194 Aldo vs. McGregor photos courtesy of USA Today Sports
If you enjoyed this story, please share it on social media!