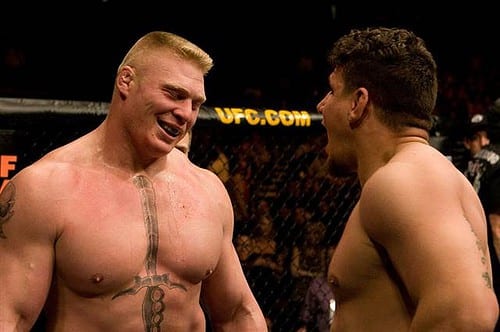 It may sound like a remote possibility, but Frank Mir isn't ruling out a trilogy match with longtime rival Brock Lesnar.
The former UFC heavyweight champ's rivalry with the hulking WWE champion goes back all the way to Lesnar's UFC debut in early 2008, where Mir submitted the former NCAA wrestling champion with a perfectly-executed kneebar when it appeared Lesnar would smash him right into the octagon floor.
Lesnar got his revenge, of course, after he went on to become the UFC heavyweight champ, battering Mir en route to a TKO stoppage in the main event of 2009's historic UFC 100 pay-per-view.
Since then, their careers have gone on different paths, as Lesnar left the UFC for WWE in early 2012 and has fought in MMA only once since while Mir signed with Bellator MMA when his most recent contract with the UFC ran out. Mir will meet legendary former PRIDE champion Fedor Emelianenko in his Bellator debut in the main event of this weekend's (Fri., April 27, 2018) Bellator 198, but while that's a big enough fight in its own right, Mir won't close the door on a third bout with Lesnar.
Recently discussing the topic during the media buildup to Bellator 198 this week via MMA News, Mir said he can't count the possibility out because Lesnar loves money – and a third match-up with Mir would do big numbers in his opinion:
"We'll see. I still don't count it out. Brock likes money and I don't think there's anybody he could get more pay-per-view buys on than facing me. I feel that fight will still work itself out because of what the financial ramifications are, it just makes sense."
While it's safe to say that Lesnar against anyone in MMA would do huge numbers regardless, him closing the book on his longest-tenured rivalry with a second win over Mir would almost assuredly be a huge draw even if both combatants are on the wrong side of 40.
However, it's far from simple to predict how it would actually happen, with Mir competing for the UFC's closest competitor and Lesnar still operating as arguably the biggest name in the WWE despite seemingly endless rumors swirling of his UFC return.
So even though it's a remote dream fight with little chance of actually happening currently, Mir cautioned fans not to rule it out. He never thought he'd be facing the legendary Fedor, either, and here he is:
"Absolutely [it can happen]. I would like to make sure it occurs. Just be patient. I mean who would have thought I would eventually be able to face Fedor?"
A good point to be certain, yet Mir would most likely have to re-sign with the UFC to make it happen, something that appears less than likely at the present juncture.
Like he says, stranger things have happened.
A win over "The Last Emperor" would certainly help his cause for getting the biggest fight in all of heavyweight MMA. Is it one you're still interested in?