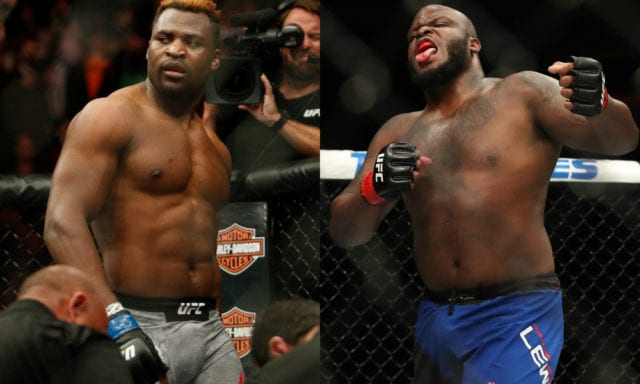 Francis Ngannou believes he has all the tools to best Derrick Lewis this weekend (Sat. July 7, 2018) at UFC 226.
"The Predator" hasn't competed since a failed UFC heavyweight title bid against Stipe Miocic back in January. Previously Ngannou had been on a hellacious knockout streak that put him on the fast-track to the title.
Miocic, however, was able to survive the dreaded fist round against the Frenchman and outclassed him on the judges' scorecards after 25 minutes.
In a recent interview with Helen Yee, Ngannou discussed his last outing against the Cleveland champ and admitted that he did probably get a shot at the gold early but it was a good step for his career nonetheless (quotes via MMA Fighting):
"I collected a lot of experience and I learned a lot from that fight," Ngannou said. "This is something that would have happened anyway someday because my rise was very fast, so I jumped a lot of things.

"I didn't discover somethings that would catch me later. At some point I can even say it's the best thing that happened because if it didn't happen in that fight, it might happen in the future. Now it happened this time. We take it, we learn it, we stand up, we move forward. That's how life is."
Ngannou now shifts his attention to Derrick Lewis, a fellow heavyweight knockout star who comes off a win over Marcin Tybura in February.
"The Black Beast" won the fight via third round knockout. Ngannou feels that he holds every advantage over the Houstonian ahead of fight night and also brought up some contradictory statements Lewis recently made as well:
"What advantages do you think I have over Derrick Lewis? All of them," Ngannou said. "Of what you can imagine, I think I have all that over him. He said I knocked [Andrei] Arlovski out because he's old — he was 37. Mark Hunt was 43 when he beat [Derrick Lewis]. Hunt made him quit. I think [Lewis] just doesn't know what he's saying."