With only two-and-half weeks remaining until the ultra-hyped boxing match between Floyd Mayweather and UFC lightweight champion Conor McGregor, the onus of promoting the bout seems to have curiously fallen on ranting former boxing champion Paulie Malignaggi, whose sparring drama with 'The Notorious' has ruled any and all talk about the fight lately.
The scene has created a far cry from last month's world tour, where both stars earned mixed reviews for their promotional hype throughout an exhausting four-city, three-country whirlwind. The most groan-worthy moments undoubtedly centered on McGregor's supposed racism when he told Mayweather to 'dance for me, boy,' before denying any accusations of racism as he claimed to be 'black from the bellybutton down' before humping the air for his 'beautiful black female fans.'
According to a report from MMA Fighting, however, it was actually a moment that occurred backstage during an interview for Jimmy Kimmel Live in Toronto where McGregor was faced with a question about Rocky 3, to which he asked, 'Is that the one with the dancing monkeys in the gym?' It's uncertain just what he meant, but the general opinion was that he was referring to a scene where Rocky Balboa trains at an all-black gym. The clip has since been taken offline.
It's a bad look for McGregor to be certain, and although he doesn't seem to care much about that perception, Mayweather is clearly growing tired of it. His previously voiced concerns became more prevalent during an interview with Stephen A. Smith on ESPN's SportsCenter last night, where he described his disapproval of McGregor's questionable interview:
"I just didn't like when he called us monkeys," Mayweather said. "I think that was totally disrespect. … He called us monkeys. I didn't like it. It didn't push a button to make me jump out of my character and go crazy, but I didn't like it."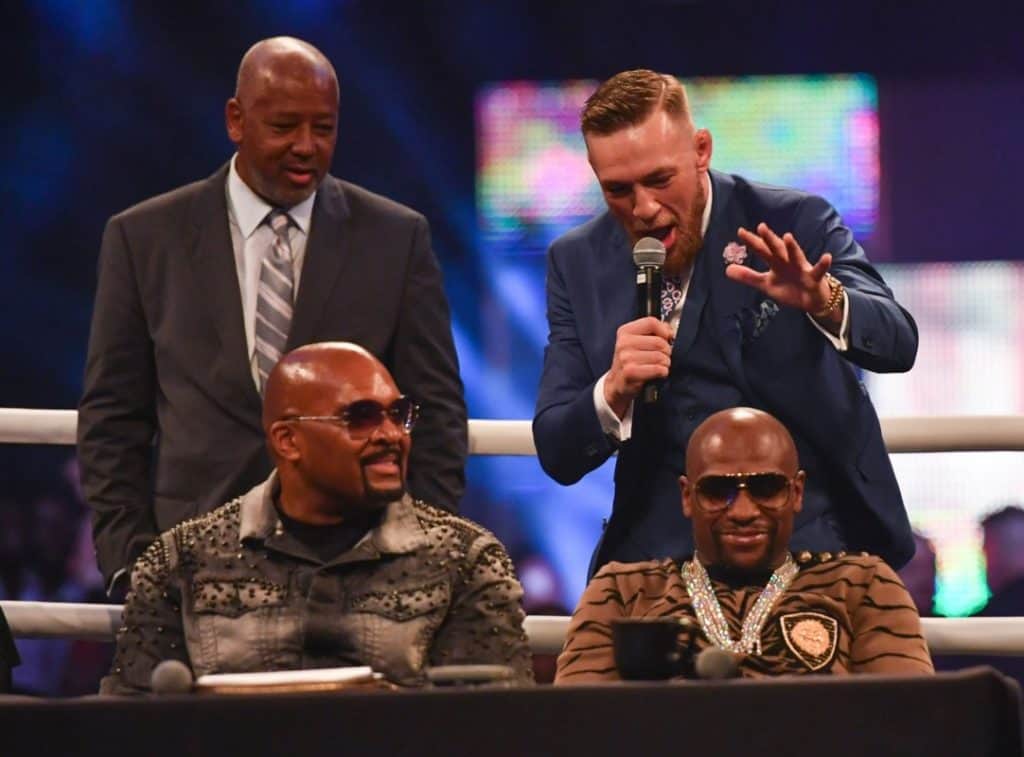 Mayweather then hearkened back to African American pioneers like Malcolm X, giving respect to what they've accomplished but also acknowledging the racism that still exists. With that established, "Money" said he was a patient man, and McGregor's day would come on August 26:
"I just thought about all our different leaders. Martin Luther King, Malcolm X. They went on the front line for me and my family and all my loved ones. Like I said before, this stuff still goes on. But I'm strong, I'm smart, patient. And come Aug. 26, I'll be the same person — smart, strong, patient. And the same way he called us monkeys, we're gonna see if he say that Aug. 26."
And in closing, Mayweather devoted his performance to all black people in the world:

"No different," Mayweather said. "But this is for a cause. This is for the American people. This is for all the blacks around the world."