Five Reasons UFC 190 Could Fall Flat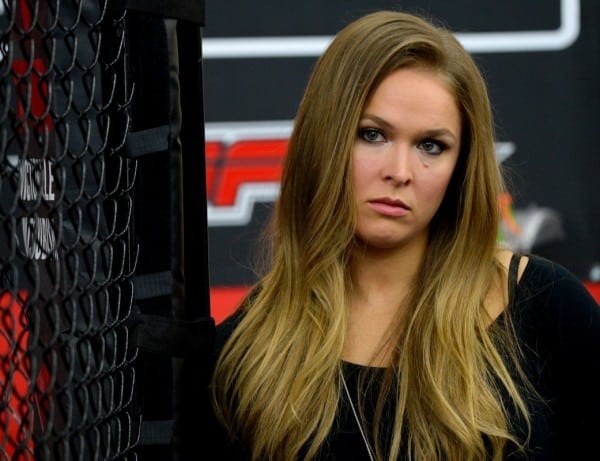 Winding down the UFC's jam-packed summer schedule, dominant undefeated champion Ronda Rousey will take on archrival Bethe Correia in the main event of this Saturday night's (August 1, 2015) UFC 190 pay-per-view (PPV) main card from the HSBC Arena in Rio de Janeiro.
With awards that are rarely, if ever, won by an MMA fighter, several high-profile movie roles, lucrative endorsements, and seemingly endless other multimedia opportunities, it's extremely hard to deny that Rousey is the biggest crossover star the sport of MMA has ever seen.
And she's done all of that in just over two years after coming from a time when the UFC repeatedly said that females would never step into the octagon to do battle. She's singlehandedly created and nurtured what is one of the UFC's most burgeoning avenues on the strength of her dominance and public persona alone.
'Rowdy' undoubtedly deserves a heap of credit for that, and UFC 190 also boasts several names that are rightfully classified as major stars in MMA, in addition to a potential women's strawweight title eliminator bout.
But there are also some big red flags that could definitely be cause for concern that the PPV card might not perform all that well. Let's take a look at five of the biggest.
5.) Aging Main Card Stars With Nothing Left To Prove:
Aside from the Claudia Gadelha vs. Jessica Aguilar PPV starter, UFC 190's main card is littered with aging Brazilian names like Mauricio 'Shogun' Rua, Antonio Rodrigo and Antonio Rogerio Nogueira, and Antonio 'Bigfoot' Silva. They'll be cheered loudly by their homeland fans, but they've most definitely seen better days in all of their lengthy MMA careers, and a case could be made that this should be the swan song for all four fighters listed above.
'Shogun's' fight with 'Lil' Nog' is a rematch of a classic, but few are picking the two aging stars to put on a repeat of their scintillating 2005 Pride meeting. 'Big Nog' is undoubtedly one of the finest heavyweights to ever fight in MMA, but most are picking his opponent Stefan Struve, a fighter who has lost two straight by finish, to hand him another loss this weekend. He hasn't won since 2012.
Add that to 'Bigfoot's' three knockout losses in his last four bouts heading into his fight with dangerous power striker Soa Palelei, and you have a cast of past-their-prime talent that fans outside of Brazil may not be too eager to pay for.
4.) Firing of 'Stitch'/Reebok/Dana White Twitter Backlash:
The major news story in MMA last week was the controversial release of longtime cutman Jacob 'Stitch' Duran for his comments about losing his sponsors when the new Reebok uniform deal went into effect. Right or wrong, Reebok received a ton of negative publicity for it, and UFC president Dana White only poured fuel on the fire when he took part in a bizarre Twitter tirade posing as a "Q&A."
Many fans pledged to stop buying PPV events and cancel their Fight Pass subscriptions. The ratings for last week's UFC on FOX 16 were strong, but that was a free show. We're going to find out if fans will truly hold back their dollars after many feel White insulted them last week.

3.) The Absolute Barrage Of UFC Events Recently:
This Saturday's card is also at the near end of an absolutely crowded summer of UFC events; only two weeks ago we were treated to four events in the span of one week in the form of UFC 189, The Ultimate Fighter (TUF) 21 Finale, UFC Fight Night 71, and UFC Fight Night 72 from July 11-July 18.
Those cards all delivered some solid action for the most part, but they can't all be gems. One has to be bad eventually, and with the glut of aging talent combined with a mismatched main event, UFC 190 could unfortunately be that card.
Of course, it could prove that theory completely wrong and deliver yet another amazing event, yet for the most part only the most hardcore of MMA fans look forward to the onslaught of events the UFC has aired recently. Will that affect UFC 190's buy rate?
It certainly could; we'll have to wait and see.
2.) A Seven-Fight Main Card:
Another aspect of the UFC 190 PPV card that isn't being discussed is the fact that it's a seven-fight main card. That's because the TUF Brazil 4 fighters couldn't get their visas in order to fight on June's previously proposed Finale from Florida, leaving Reginaldo Vieira to fight Dileno Lopes for the bantamweight contract and Glaico Franca to fight Fernando Bruno for the lightweight title on the main card.
Normally an extra two fights would be a nice bonus on a PPV card; unfortunately here they feature four fighters that American fans probably aren't going to be interested in paying and potentially staying up until 2 a.m. to see. Again, that could decrease buys.
Thankfully, the next reason could ensure the card doesn't run late, like most Ronda Rousey-headlined cards.

1.) Rousey's Fights Just Aren't Competitive At All:
At the core of the reasons why UFC 190 could fall flat on its face is the blatantly obvious fact that Rousey's fights just aren't the competitive, unpredictable wars that fans want to pay money to see. Sure, she's the UFC's biggest and most marketable star outside of the cage, but her last three fights have lasted a grand total of 96 seconds combined.
She's probably the most dominant fighter in the UFC right now, and with a lifetime of combat sports training behind her, she's also light years ahead of the women's MMA game. Cat Zingano was largely thought to be the biggest threat to her throne and she came out and destroyed her in 14 seconds at February's UFC 184. While that was no doubt shockingly impressive, it could have actually hurt her value as a PPV draw at the same time.
If she comes out and levels Correia the same way (she's said she wants to drag this one out a bit to deal out more punishment), you can bet fans aren't going to be clamoring to shell out 60 dollars to watch many more of her fights.
So there you have it, fans. Will you be spending the cheddar to watch Rousey and others compete in Brazil this Saturday?