After getting thoroughly ousted by Amanda Nunes at UFC 207, Ronda Rousey's future is uncertain. As for the reasons why she looked exactly the same as at UFC 193, take a wild guess. Nunes found the same success in the striking as Holly Holm did, arguably even more so. How did her coach Edmond Tarverdyan allow this fight to even take place if she was this obviously unprepared?
Then there's the fact that he marched his most talented fighter straight into the awaiting counter-strike storm of Holly Holm. Or that he took a 7-2-1 heavyweight Travis Browne from contending at the top of the division to a 2-3 record in his last 5 bouts.
Aside from his in ring question marks, however, a huge reason Tarverdyan's style is a distraction and burden to his fighters is his insatiable urge for and undeniable knack for finding himself in the headlines under less-than-desirable circumstances.
Thanks to the magnitude of Ronda Rousey's superstardom, Tarverdyan has repeatedly found ways to redirect his fighter's spotlight and take center stage at the forefront of attention. Obviously this is a big detriment that requires the utmost focus from it's athletes.
Let's take a look at the top five instances that seal Edmond's title as the worst trainer in the UFC:
 
1) Edmond Tarverdyan (If That's His Real Name) Gets Suspended & Placed On Probation For ID Theft:
On April 2, 2015, Tarverdyan responded "No" on his Corner's License application for the California State Athletic Commission in answer to a question regarding the existence of any past criminal offenses. As it turns out, however, back in 2010, Tarverdyan was picked up on two felony counts of identity theft and one count of resisting arrest.
After he was detained, Tarverdyan was found to be in possession of multiple credit cards, pin numbers, and social security numbers. When this was discovered, he was temporarily suspended and placed on a three-year probationary period.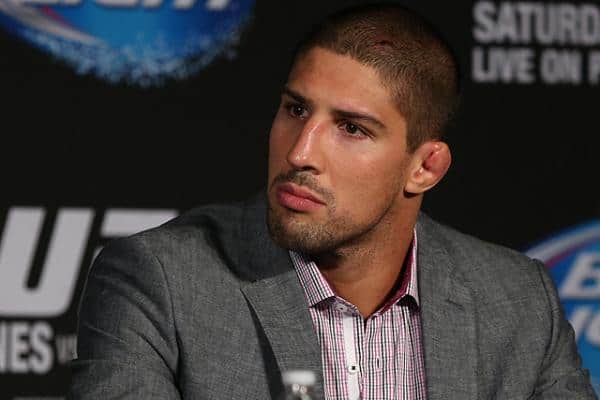 2) Beefs With Brendan:
Two years ago, the UFC booked an unranked Brendan Schaub to a fight with No. three-ranked heavyweight Travis Browne. During an interview on the "Joe Rogan Experience," Schaub made comments implying that Browne's recent move to Tarverdyan's camp was "good" for his (Schaub's) chances in their bout.
This prompted Tarverdyan, to comment (among other things) that, in his opinion, Schaub couldn't "fight for s—t". Tension mounted, social media insults whirled, and Tarverdyan even verbally confronted Schaub at the weigh-ins.

3) Edmond's Bankruptcy Blues
As if having a trainer who has a past as a conman and enjoys confronting your opponents isn't distracting enough, surely wondering if your gym is going to get turned into a Chipotle would certainly do the trick.
In July of 2015, Tarverdyan filed for bankruptcy, claiming to have "$700,000 in debt" and "$0 in monthly income". When asked how this could be possible given his status as Rousey's coach, Tarverdyan said the following via Paul Gift of Bloody Elbow:
"And that's what I'm saying. With my, I did not know what's been put. And then so I hired a new attorney and I did read the first page. I wasn't aware of most of the stuff, and I'm willing to fix it."
I'm sure he was willing to return the aforementioned identities too.

4) Doesn't Do Well When He 'Meets the Parents':
In 2015, Rousey's mother, Dr. AnnMaria De Mars, gave an interview, on video, during which she discussed her contempt for Tarverdyan.
Cut from the same cloth as her daughter, De Mars didn't hold back calling Tarverdyan a "terrible coach", saying that he "hit the lottery with Rhonda" and claiming that Rousey is only involved with Tarverdyan because it's like when "somebody pitches a no-hitter while they're wearing red underwear and they wear red underwear everyday".
Later De Mars even said that she "would caution anybody from going in there," because "he's (Tarverdyan) a bad person".
Perhaps mother's intuition?

5) Werdoomed Himself To A Fabricio Front Kick:
Last but not least, we have the very high-profile and equally bizarre ending to an already bizarre fight at UFC 203.
According to Werdum, Tarverdyan entered the cage at the end of the third and final round saying some "bad things" to the former champ. Werdum responded with a look of shock which was followed by a shove-fest-inspiring front kick to the belly of Tarverdyan – approximately two-feet south of the area many feel it would've been most effectively placed.
At first the event seemed to escalate but was quelled before resulting in suspensions and, perhaps, probationary issues for Tarverdyan. With Rousey still promising a triumphant return to the Octagon and Browne at least having the ability to be competitive against second-tier fighters in the heavyweight division, we are certainly far from the end of Tarverdyan's antics.
However, Browne is one loss away from having to seriously reconsider where he's heading with his career, and Rousey is near a year removed from her knockout loss to Holly Holm. With each of his flagship fighters in desperate need of a win, the near future could spell the end of Tarverdyan's run in the public eye if he's unable to produce results.