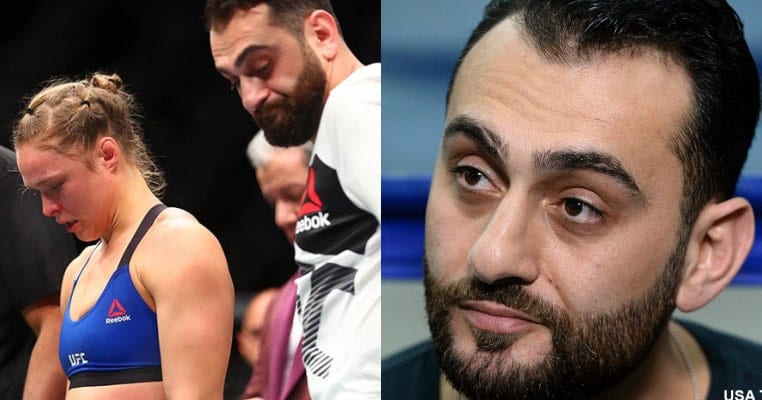 After getting thoroughly ousted by Amanda Nunes at UFC 207, Ronda Rousey's future is uncertain. As for the reasons why she looked exactly the same as at UFC 193, take a wild guess. Nunes found the same success in the striking as Holly Holm did, arguably even more so. How did her coach Edmond Tarverdyan allow this fight to even take place if she was this obviously unprepared?
Then there's the fact that he marched his most talented fighter straight into the awaiting counter-strike storm of Holly Holm. Or that he took a 7-2-1 heavyweight Travis Browne from contending at the top of the division to a 2-3 record in his last 5 bouts.
Aside from his in ring question marks, however, a huge reason Tarverdyan's style is a distraction and burden to his fighters is his insatiable urge for and undeniable knack for finding himself in the headlines under less-than-desirable circumstances.
Thanks to the magnitude of Ronda Rousey's superstardom, Tarverdyan has repeatedly found ways to redirect his fighter's spotlight and take center stage at the forefront of attention. Obviously this is a big detriment that requires the utmost focus from it's athletes.
Let's take a look at the top five instances that seal Edmond's title as the worst trainer in the UFC:
 
1) Edmond Tarverdyan (If That's His Real Name) Gets Suspended & Placed On Probation For ID Theft:
On April 2, 2015, Tarverdyan responded "No" on his Corner's License application for the California State Athletic Commission in answer to a question regarding the existence of any past criminal offenses. As it turns out, however, back in 2010, Tarverdyan was picked up on two felony counts of identity theft and one count of resisting arrest.

After he was detained, Tarverdyan was found to be in possession of multiple credit cards, pin numbers, and social security numbers. When this was discovered, he was temporarily suspended and placed on a three-year probationary period.