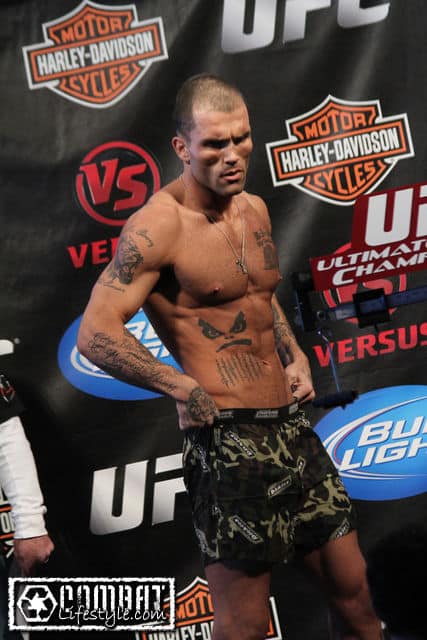 Apparently there's this thing called the 17 Day Diet that allows you to lose your hideous gut as long as you eat nothing but Fritos for 17 days. Or something like that. I can't be bothered to do actual research. But the point is this: It's just another bullshit fad. As MMA fighters have proven for years, the only way to effectively take off pounds is to dehydrate yourself until you nearly die – a miracle diet known as "brutal weight cutting." Here are some of the sport's greatest success stories.
* Ed. note: Just kidding. The "weight-loss plans" depicted in this article are not to be followed under any circumstances, and Dr. Mike seems like a super-nice guy despite the questionable amount of product he puts in his hair.
Sean McCorkle
Lost: 55 pounds in three months, before his submission win over Mark Hunt at UFC 119 (9/25/10)
After charming his way into a UFC contract, Indiana-based super-heavyweight Sean McCorkle was faced with a dilemma — making 265 pounds for the first time since middle school. "Big Sexy" had 12 weeks to come down from his walking weight of 320, which forced him to get very familiar with chicken breast, apples, and oatmeal.
By weigh-in day, it seemed like the world was conspiring against him. "The cut was an absolute nightmare, and the commission scales were off the morning of the weigh-in," McCorkle explained. "I told them that and the commission said they weren't. I said I couldn't possibly be three pounds heavier [on the day of weigh-ins] than I was last night when I didn't eat or drink anything. So I went to cut an extra three pounds that morning. It took me two hours to cut the weight. Then I weighed in at 263 pounds and I wanted to strangle somebody." Compared to that, making Mark Hunt cry "uncle" with an armlock was the easy part.
Jake Shields
Lost: 20 pounds in one day before his split-decision win over Martin Kampmann at UFC 121 (10/23/10)
Though he's best known as a 170-pounder, Jake entered the UFC following a three-fight stint in Strikeforce that kept him at or near the middleweight limit. His weight cutting skills were clearly rusty, and he was forced to suck out 20 pounds of water in the 24 hours leading up to UFC 121′s weigh-ins. As a result, Shields's much-ballyhooed UFC debut turned out to be a dull, hype-deflating performance, capped off by a somewhat controversial win on points.
"I don't want to make excuses," Shields said in the post-fight press conference, "but that was my first time cutting to 170 in a while. I do think I dropped too much weight. If that was a factor, I don't know, but I pulled out 20 pounds in a day…Will I do that again? No, never. I'll never drop that much weight again."
Rory Markham
Lost: One lung, before his knockout loss to Dan Hardy at UFC 95 (2/20/09)
We're not sure where Rory started his weight cut, but he ended it without the full use of a major organ. As the story goes, Markham suffered through an awful cut in London before the fight, and cramped so badly after weigh-ins that one of his lungs collapsed. Markham had no idea how much he'd damaged his body until after the fight, when a suspicious doctor decided to x-ray his chest. "That was the worst weight cut I've ever done," Markham said later. "I know what hell is like." Despite the awful experience, he decided to take another ill-advised crack at welterweight in his next fight. Markham came in seven pounds over, got TKO'd by Nate Diaz, and was fired by the UFC.