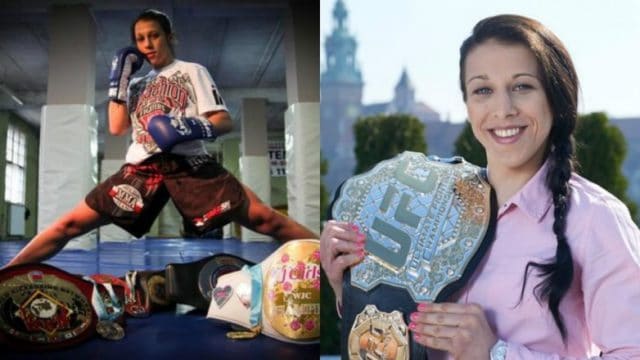 UFC strawweight queen and Muay Thai champion Joanna Jedrzejczyk is the latest female superstar to break through in the MMA promotion's talent pool, and she's been nothing short of a sensation in doing so. Winning the 115-pound title with a UFC 185 TKO against Carla Esparza, Joanna went on to defend the title once against Jessica Penne with another TKO before getting booked for a rematch against Claudia Gadelha.
It wasn't long before 'Claudinha' was dropped due to injury, and replaced by Valerie Letourneau at UFC 193. With the Melbourne, Australia-based event set to break all-time attendance records, Jedrzejczyk could be heading for Ronda Rousey type status in 2016 with a win. So how did the third ever European champion in UFC history get to this point? 10-0 and on the brink of superstardom, the Polish kickboxer's story goes back to 2002, when she discovered combat sports while in the pursuit of fitness.
A 15-year old Jedrzejczyk took up kickboxing classes in her native Olsztyn, Poland which eventually led to her competitive fighting career. Training under the legendary Ernesto Hoost and Paul Slowinski, JJ racked up a superb amateur record of 37-3 with multiple championships in western kickboxing and Muay Thai. It was clear that Jedrzejczyk was destined for greatness before she'd even turned pro.

Eventually winning six world championships and four European crowns, compiling 27 pro wins and two losses, Jedrzejczyk made the transition to MMA in 2012. She left behind a 10-year stint as a Muay Thai and kickboxing champ, as well as Hoost and Slowinski from Team Mister Perfect to pursue a career in the growing sport of mixed martial arts. A debut decision win over Sylwia Juskiewicz was just the beginning for Joanna Jedrzejczyk, and truly the most pivotal fight on her path to the UFC was against Rosi Sexton in June 2014.
Already 5-0 with two finishes, Jedrzejczyk faced gritty slugger Sexton on her home soil of London, England, making swift work of the UFC veteran with a second round knockout finish. Sexton retired after the fight. It was then time for the Polish star to get her call to the big leagues, in the form of UFC on FOX 12 just one month after her fight against Sexton. Facing Gracie Barra student Julianna Lima in her first fight for the promotion, the Muay Thai queen had landed in the UFC, and showed some high level striking en route to a unanimous decision win.
Up next came undoubtedly the toughest fight of JJ's career thus far, and it was Brazilian Claudia Gadelha that stood opposit the current champ at UFC on FOX 13. 'Claudinha' took the Polish kickboxer to the scorecards with a thrilling three-round war, one that many believed should have gone to the Nova Uniao prospect, instead it was Jedrzejczyk that would remain unbeaten, handing Gadelha her first pro loss. Then came Joanna's chance at earning the championship belt, as she was swiftly booked in to face Carla Esparza at UFC 185.
Fresh off her Ultimate Fighter 20 upset win over Rose Namajunas, Esparza was already beginning to get some hype built up, but it wouldn't last long with Jedrzejczyk looking to get the job done in March of this year. A second round TKO ended a brutal one sided beatdown, sending Esparza down to the mat bloodied and bruised, and crowning Joanna Jedrzejczyk as the new champion. Then it was time for fellow kickboxer Jessica Penne to get her shot at glory.
Jedrzejczyk dispatched Penne with a third round TKO in June of this year, making the former Invicta champion look like a junior contender in doing so. Briefly linked to a rematch with hungry competitor 'Claudinha' Jedrzejczyk would find herself aligned with Letourneau as previously mentioned. What most neglect to mention is that JJ has a very interesting personality, making her a lock for the UFC to put some serious promotion dollars behind should she top the streaking Canadian down under on November 14.
I hope you've enjoyed reading, here's some kick ass highlights of Joanna Champion's MMA career so far, enjoy!
If you enjoyed this story, please share it on social media!