Fedor Emelianenko Wears Amazing Sweater to Affliction Press Conference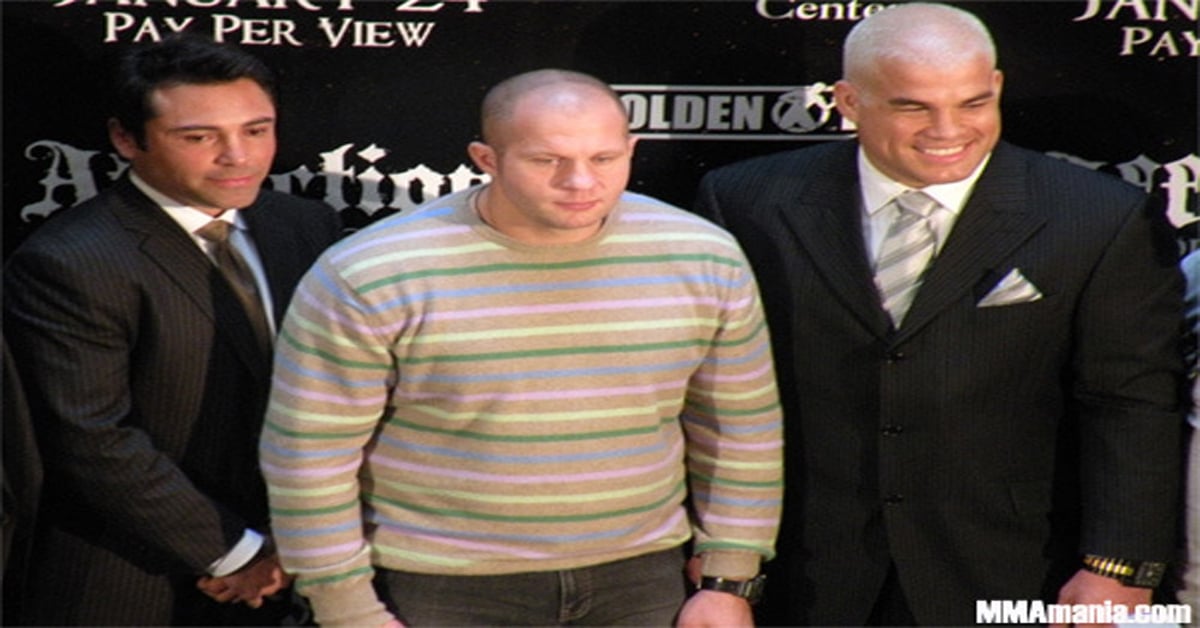 Earlier today in New York, Affliction held a press conference featuring Fedor Emelianenko, Oscar De La Hoya, Tito Ortiz, Donald Trump, Tom Atencio, and Vadim Finkelchtein. (I totally would have been there if not for the fact that something completely historic was happening at the same time; awesome scheduling as always, guys.) All the star power in the room was unfortunately upstaged by Fedor's horizontally-striped pastel-hued Ultimate Sweater, which probably made De La Hoya and Ortiz very self-conscious about their boring tailored suits. When asked about his sweater, Emelianenko replied, "you dress for job you want, not for job you have."
Just kidding. But according to this Sherdog recap of the presser, here's what actually went down:
— De La Hoya called MMA's progress "incredible" and said he expected his company's success in boxing to follow in MMA through working with Affliction.
— Affliction VP Tom Atencio said he plans to promote four MMA events per year with Golden Boy. On the UFC's counter-programming tactics, he said: "They're going to do what they have to do to make sure that they're the only game in town. With the organization that we have and the partners we have, I just don't see that happening."
— "Day of Reckoning" color-man Tito Ortiz said he looked forward to "possibly" fighting for Affliction.
— Fedor Emelianenko explained that prior to his World Sambo Championships loss in November, he wasn't as prepared as he should have been, but he's "fully motivated" for Arlovski. Regarding Arlovski's much-publicized training with Freddie Roach and Roach's criticism of Emelianenko's boxing technique, Emelianenko said, "I never claimed that I had the best boxing technique in the world…[Roach] has trained a lot of great fighters and maybe he's right, but we'll see what happens in the ring. We'll see what Andrei has to offer. We'll see what I have to offer him."
After the jump: M-1 Vice President Jerry "Gary" Millen completely bites Dana White's style with his own video blog, which covers yesterday's press engagements. What Fedor is wearing at the 4:42 mark may shock you.
(Okay, I guess the video preview image gave away the gag. Hmm. Anyway, if I had a sweater that awesome I wouldn't take it off either.)