Fedor Emelianenko Talks Failed Negotiations With UFC: It's About Mutual Respect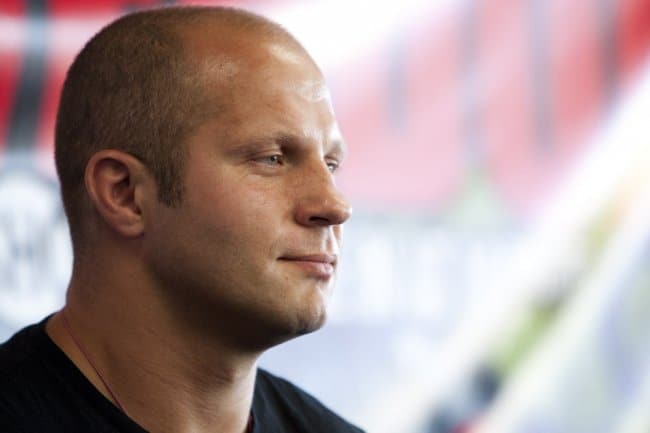 Pride great and MMA legend Fedor Emelianenko has kept a low profile the last few years, staying away from public appearances since his retirement from fighting in mid-2012. "The Last Emperor" will resurface a bit by making an appearance for fans before this weekend's Bellator 134 from Uncasville, Connecticut, but he isn't planning on making a comeback anytime soon, and he's just fine with that.
His long-rumored stint with the UFC never quite came to fruition, which scrapped any plans for the potential of a massive bout against Brock Lesnar bout in Cowboys Stadium.
Much has been made of UFC President Dana White's attempts to negotiate with Fedor and his M-1 Global management team led by Vadim Finkelstein, but a deal could never be reached, and White was left without his big fight.
However, although he continues to blast Emelianenko and his team to this day, "The Las Emperor" told MMA Fighting's Chuck Mindenhall that he didn't even get a chance to fight Lesnar until after he was already retired, and it wasn't necessarily a fair agreement:
"I got the invite [to fight Lesnar] only after I was retired," he says. "Everything has its time and place, and it wasn't the right time for it. This is how God willed it, so it happened. I also believe it could have happened earlier had the UFC — primarily Dana — reached out and actually started a proper dialogue where both parties met halfway. Not just, 'these are my rules, either take it or leave it.'"
Emelianenko insinuated that White was a bit dishonest with his negotiations, offering one number in person but delivering another when it was time to sign the papers:
"In all actuality, we did have a couple of conversations here and there, and a lot of what Dana White had said came through as inadequate," he says. "Meaning, during the dialogue that happened over the phone one thing would be said but when the paperwork was sent over it would be something completely different."
Fedor also recalled the now-infamous "island meeting," where White apparently tried to strong arm Emelianenko into signing a UFC contract. According to Fedor, that's where the beginning of his distrust began:
"We did meet on the island," he says. "It was very short. It was unclear why he came. Of course, over the conversation one thing was promised, but when the paperwork was received it was something else. There was a very extensive dialogue between me and Dana, as well as Dana's lawyers, but it didn't go anywhere. In other words, Dana basically said, sooner or later you're going to end up fighting here anyway. You're still going to say yes to this contract I'm giving you."
Ultimately Fedor described his direction of desiring trust over money, something that he never felt from White and the UFC. He's heard how White has bashed him and his management over the years, but he wasn't about to take their money just to enter into a non-mutual, one-sided agreement:
"Throughout my entire career, I've heard and read on the Internet a lot of negativity coming from Dana," he says. "Someone who says a lot of negative things about you and then turns around and invites you to join him, how do you react to that? And it's not even about money. It's all about mutual respect, meeting each other halfway. Not just one saying one thing to the other."
It's safe to say that Fedor is one of few elite MMA fighters to resist the allure of the UFCs big money, and he doesn't seem to be the least concerned about the fights that could have been. He's kept his stoic, calm demeanor at the forefront of his personality, and he'll always be considered one of the sport's great despite never having stepped foot inside the Octagon.