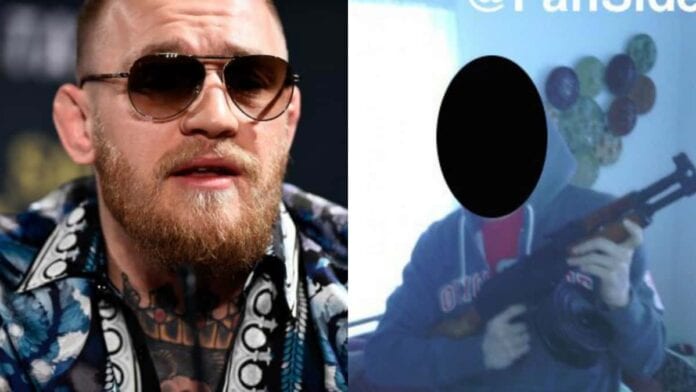 It looks like someone is not a fan of Conor McGregor, and this recent image has sparked an investigation by the UFC and the FBI…
UFC featherweight champion Conor McGregor will face Nate Diaz in the main event of UFC 196 this coming March 5, and we got to see the first battle of the trash talkers during an eventful presser last night. Both 'The Notorious' and Diaz were on form, and shared a heated staredown to close the evening's festivities. With Rafael dos Anjos injured, there probably wasn't a better replacement in terms of marketability for this fight.
With Conor McGregor coverage hitting fever pitch over the recent weeks, it looks as though the Irish striker has been ruffling a few feathers outside of the mixed martial arts world. This threat was sent out over Twitter last night, and broke by Mike Dyce and Zombie Prophet. Check it out:
UFC investigating possible threat directed at Conor McGregor #UFC196 https://t.co/IYk1jng0Ax pic.twitter.com/n0uqfyVMwS

— Mike Dyce (@mikedyce) 25 February 2016
The @ZProphet_MMA bump… I've miseed this https://t.co/DnlJvUiYvu

— Mike Dyce (@mikedyce) 25 February 2016

The federal bureau of investigation is now seeking the owner of the account associated with the threatening image, where the man appears to be holding an AK-47 assault rifle, while sending out the following threat:
@TheNotoriousMMA Be careful talking down on neighbourhoods, you don't run shit here except the UFC, and in the hood we use guns not fists this ain't Ireland
Needless to say, the authorities and the Ultimate Fighting Championship are taking this threat very seriously, especially given the heightened threat levels already being experienced the world over. We'll bring you more updates on this story as they arise.
With all the drama surrounding Conor McGregor vs. Nate Diaz, it's easy to forget the UFC is putting on a show in London this weekend featuring Anderson Silva. Be sure to stay with us here at LowKickMMA as we bring you all the UFC Fight Night 83 and UFC 196 news, updates and coverage!