Fabricio Werdum Tells Us Why Cain Velasquez 'Isn't Mexican, But American'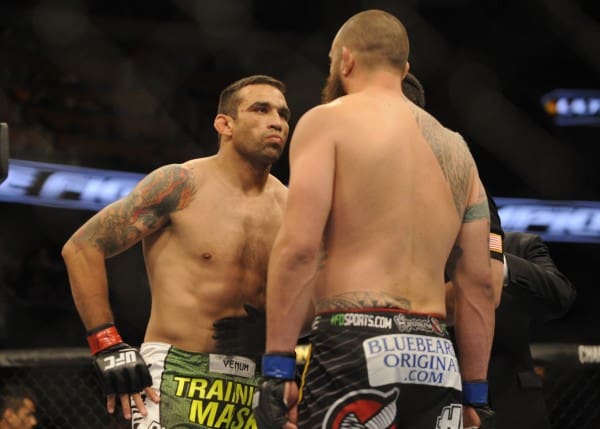 Just days before Fabricio Werdum and Cain Velasquez meet inside the octagon, the verbal shots between the two continue on the latest episode of the UFC 188 Embedded series.
During episode three, which was released late last night, Fabricio Werdum went up to Velasquez during breakfast to say hello. Velasquez made it clear that he was not happy with Werdum after Werdum's comment during the first episode of the series.
"I went to breakfast this morning and I ran into Cain Velasquez," Werdum said. "I went over to say hi to Cain Velasquez and he said, 'I'm not going to say hello.' I asked, 'Why?' He said, 'Because you bad-mouthed me.'
"I'm sure that Cain Velasquez wanted to say hi, but someone told him something. I think it was (UFC middleweight fighter) Luke Rockhold. Do you know who Luke Rockhold is? That nobody. It could be on the first episode of Embedded I said (Velasquez) wasn't Mexican."
When going back to watch episode, Werdum said Cain wasn't Mexican, but rather American. This could definitely be construed as an insult to someone who has 'Brown Pride' tattooed across their chest.
"He's American," Werdum continued. "His parents are Mexican. So he's not 'Mexican, Mexican,' but he represents Mexico well. I always said that. We have to tell the truth. So (Velasquez) said, 'I'm not going to say hello.' I was like, 'Very well.'
UFC 188 takes place this Saturday, June 13, 2015 at Arena Ciudad de México in Mexico City, Mexico.
Photo Credit: David Manning-USA TODAY Sports