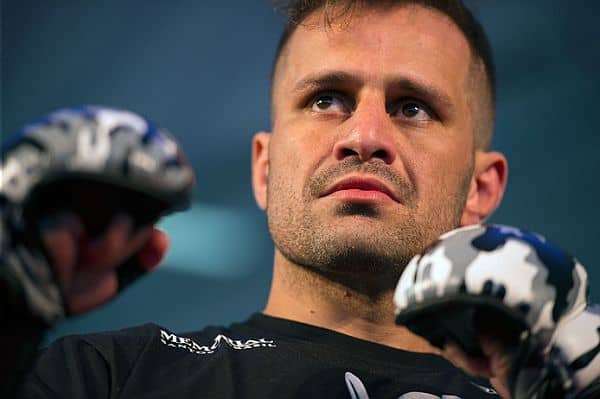 Fabio Maldonado finally got the fight he wants at UFC 186 with the last minute switch of Steve Bosse for original opponent Quinton Jackson being recently announced. Maldonado is renowned for his incredible ability to take punishment and fight back, and Jackson will likely relish that fact.
"Rampage" has often complained that fighters are afraid to stand and bang with him, but by the looks of it, he'll have no trouble finding Maldonado. Speaking to Portal, via Bloody Elbow, the Brazilian boxer says he has wanted to fight 'Page since 2003, and will give fans what they want to see on Saturday:
"I'm very excited.  I'm so happy.  That's a fight I wanted since 2003. All due respect to Steve Bosse, who is a good fighter, but Rampage has proven a lot more.  No doubt it's a huge fight.  I'm going all out. It only took me a second when Alex Davis asked me if I wanted it. I will concentrate and try not to do what I did against Miocic, I will focus more.  I'll give my best and I hope it doesn't last only one round, because I want a really gruelling fight for the both of us. I want a lot of blood on Saturday night."
Miocic blasted an undersized and overmatched Maldonado at The Ultimate Fighter Brazil 3 Finale in May 2014, but a thrilling win over Hans Stringer at UFC 179 saw the Team Nogueira product back on form. Now 4-1 in his last five, Maldonado has a chance to build a streak, but "Rampage" is tough competition when he shows up in shape and motivated.
We've seen less-than-stellar versions of Jackson, like the one that fought against Ryan Bader, and he will probably get steamrolled by Maldonado if he turns up out of shape. Fans were in dismay after the news that this fight was off the card, especially given the apparent lack of big names in Montreal on Saturday night.
Perhaps Jackson vs. Maldonado will save the show, or maybe we are being too picky as fans? Either way, I'm betting these two stand-up warmongers earn 'Fight of the night' honors.