Exclusive: Yushin Okami Talks Title Shots, Training Partners and Becoming a Star in the UFC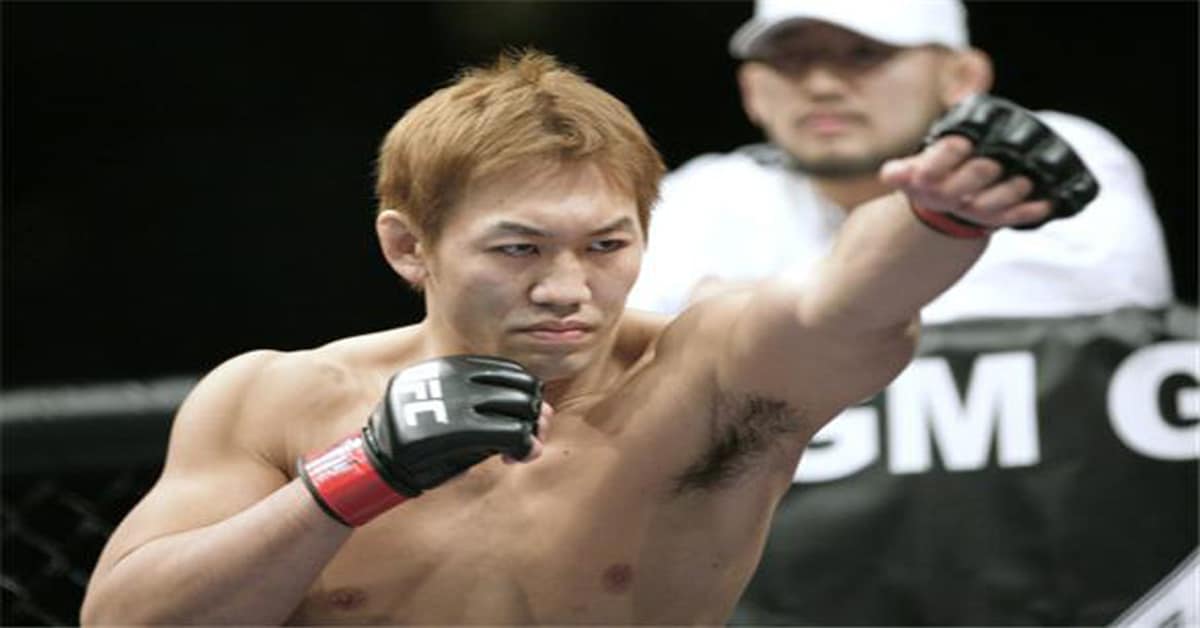 We visited Yushin Okami at RJW (Real Japan Wrestling, part of the Wajutsu Keishukai network) where he trains several days a week to interview him and watch him take the MMA class with some of the resident professional and amateur fighters.
RJW is located in a very unlikely spot – a residential area of Tokyo on a converted floor of a condominium, rather hard to find for anyone unfamiliar with Tokyo or the Japanese language.
A foam matted area and a marked wrestling-matted area with padded walls is about all there is. No heavy bags; no fancy equipment. Just the smell of old sweat barely masked by disinfectant. The cleaning of the mats is done by all of those who train that day after practice, and this is the norm for all martial arts dojos of any discipline across Japan.
Okami was happy to have the opportunity to speak to the international media. His English is almost non-existent, and he is much less known in his own country than abroad, making it a rare occasion for him to speak publicly to the international audience.
He was very adamant about his position in terms of a title shot against Anderson Silva, confident that he will take the middleweight belt and completely uninterested in the talk of a GSP versus Silva match up. In fact, he expressed his disdain at the notion of anyone switching weight class and getting an automatic title shot.
How is your conditioning at the moment?
At the moment I don't know when I'll be fighting, but physically I'm keeping in good shape. I haven't heard whom I'll be fighting but I want to fight Anderson Silva so I'm preparing for that.
Do you have a different game plan for Anderson Silva?
I'm increasing my strength and speed, but since I don't know when the fight will happen I'll work on the finer points later.
What did you think of the Silva vs. Belfort fight?
I traveled to Las Vegas to watch it live. I was surprised Silva finished it with that kick and I thought he was strong, but watching that fight made me want to fight.
How did you feel when you knew you wouldn't get the title match next?
Well, I've heard various things, but instead of GSP I want to fight Anderson, beat him, and I believe I'll become a new star in the UFC. I'm concentrating and training for that fight now.
If the Silva vs. GSP happens, how do you think it will go?
Well, there is the problem of weight…and GSP will go for the takedown. But the middleweight division is for the fighters who are there, and have been fighting there, so I don't think there's much point in that fight. Basically, I haven't really thought about it because Anderson and I are top of the middleweight division, so it should be left to us.
How often do you train with Yoshihiro Akiyama?
At the moment we train about twice a week, mainly sparring.
Have you trained with Riki Fukuda?
Yes, before he fought in the UFC we trained together. We are the same age and he's a very mentally strong fighter so I'd like to see him rise up in the UFC.
What was your first impression of training in the U.S.?
I trained at Team Quest and Xtreme Couture. There are many bigger guys there and MMA as a sport is really evolving. Until now in Japan most training has been separate: striking, wrestling, jiu-jitsu, but in America MMA training – a mix of everything – has really developed. So, I've tried to absorb the good points from there and mix them with the good points of training in Japan.
With the downturn in MMA shows in Japan now, what do you think will happen in the future?
The culture of martial arts in Japan runs very deep, and although the popularity seems low at the moment it will never disappear so I'm not worried. It'll rebound. American MMA is huge now so in comparison it seems like Japanese MMA is on a downturn but I'm really not that worried. There are a lot of people who feel passionate about MMA so we'll see some good fights here and I want to do everything I can to represent Japan in the UFC.
What do you do in your free time?
I like to watch movies and eat tasty food. Recently I've been eating raw (beef) liver!
Do you have a message for Anderson Silva?
Anderson is the top of the middleweight division and I am coming for the belt. I promise you'll see him fall and I'll be the new champion. Thank you for your support!
Stewart Fulton is a transplanted Scotsman, professional fighter and writer who has lived and trained in Japan since 2001. His blog, MMA-in-Japan.com gives the inside view of Japan's MMA scene from an outsider's perspective. After moving to Japan Stewart began training with the likes of Kazushi Sakuraba and Nobohiko Takada at the renowned Takada Dojo in Tokyo, but has since moved on to Team Catch. He currently resides with his wife, Nayumi and young son, Akeem in Koshigaya-shi, Saitama.