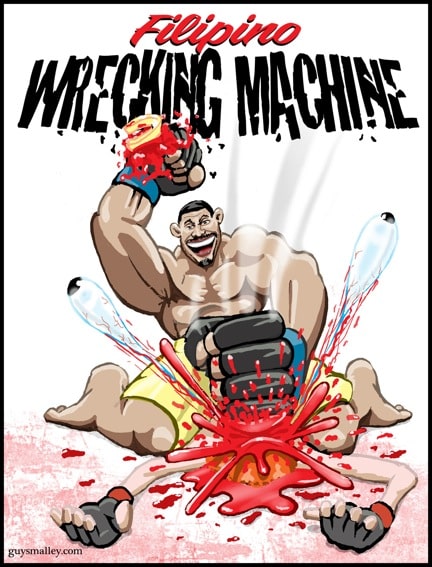 (Munoz pays tribute to his favorite terrible fighter, Emmanuel Yarborough, by squashing a scrawny ginger less than 1/3rd his size.)
By Elias Cepeda
At first, what he said kind of passed by unnoticed, but when I caught it, I was forced to ask him to clarify. We were talking to UFC middleweight contender Mark Munoz about training camp for his UFC on FUEL 4 main event scrap tonight against Chris Weidman and thought to ask how things were going with the gym he owns, Reign Training Center.
Munoz opened up the Southern California fight gym a couple years ago and since that time it has grown to house not just 9-5ers seeking workouts, but some of the best fighters in the world as well. Munoz said the business was going swimmingly, spoke about some of the challenges of starting up and managing a gym and, almost in passing, mentioned that he led training for the guys.
Well, certainly not while he was in camp, right? Wrong, Munoz corrected. The fighter has, in fact, been his own head coach and trainer for all the fighters at Reign as he has readied to fight Weidman.
"I actually lead the training along with training myself," Munoz said. "I've been coaching for awhile now and for me, I love running practices. I think about how to run practices and how to be able to breakdown technique and to be able to help the whole group. I've been doing it for over 10 years when it comes to Division I wrestling. Love to teach and to coach and get a good workout in the process. The guys love it too. They see the workouts and feel that they are catered to them. I'm glad I can accomplish both coach and competing. I've always wanted to do both but with wrestling you can't really do it."
Simultaneously fighting and coaching? That's some Bill Russell and Pete Rose stuff right there.
To understand the significance and novelty of such a thing, one has to understand that training for a fight, or for high level sporting competition in general, is one of the most selfish endeavors humans undertake. Not selfish in a particularly bad way, but selfish nonetheless. During camp, everything is about the fighter scheduled to compete. The timing of everything from meals to training time to recreation time as well as the specifics of what those training sessions consist of revolves around the needs of the competing fighter. Everyone's attention is on them.
So the idea of said fighter also making it his job to pay attention to the needs of the other fighters, to be the main person responsible for taking care of them in fact, is pretty rare and remarkable. And just like Rose and Russell must have had the complete respect and trust of their fellow players when they coached and managed while also playing, Munoz must have that from his teammates for this scenario to work out.
The "Filipino Wrecking Machine" says that he tries to create a familial environment and that goes a long way. "We have great fighters coming in and the gym has been attracting those guys because of the comradarie we have in the room," he said.
"I try to create a comfortable environment, a fun environment where we step foot inside and everyone says hi to each other. There are no cliques. I've been to a lot of gyms where it was very cliquish. Somebody new would come in and you wanted to knock them out during sparring (laughs). But that isn't a comfortable environment. So I like to plan events where we're hanging out and develop a closer bond. When you have a close bond, the team pushes each other a lot more."
Munoz has been very clear recently in saying that he believes he will deserve a title shot if he gets past Weidman. After all, he's won four straight and seven of eight in the division overall. He was also set to face Chael Sonnen in January in a number one contender match before he had to pull out in order to get his elbow surgically repaired. Perhaps you remember vomiting upon seeing the results.
"I don't know why I've been getting overlooked," Munoz said. "I've been busting my butt for a long time."
Of course, if Munoz does get the next middleweight title shot, he'll have to face a former training partner and man he still considers a friend, champion Anderson Silva. "It's nothing personal," Munoz explained.
"I still consider him a friend and the greatest fighter, pound-for-pound, in the world and in the history of MMA. But at the same time, I feel like I've arrived. I want a chance at it. In an ideal world I would love for him to retire. But we know that sometimes it's not an ideal world. So its gonna work out the way its gonna work out."
But before he can even cross that bridge, Weidman is in Munoz' way, who might be one win away from a title shot himself if he is able to secure a win tonight. In his last bout at UFC on FOX 2, he beat up former #1 contender Demian Maia, and he did it on incredibly short notice.
Weidman, like Munoz, comes from a wrestling background. But Munoz says he will still swing for the fences on the feet, with no regard for Weidman's takedowns.
"The thing is, I have confidence in getting back to my feet. If he takes me down I'm going to pop back up. That's how I train and that's how I fight," Munoz said.
"I'm going to get back up and am still going to throw bombs. That's just who I am. I'm not a fighter willing to score points to win. I'm looking to end the fight in a moment."
Can't argue with that gameplan. At least not from a fan's perspective.