Exclusive: B.J. Penn's Trainer Talks Edgar Fight, Says Penn Was Battling Sinus Infection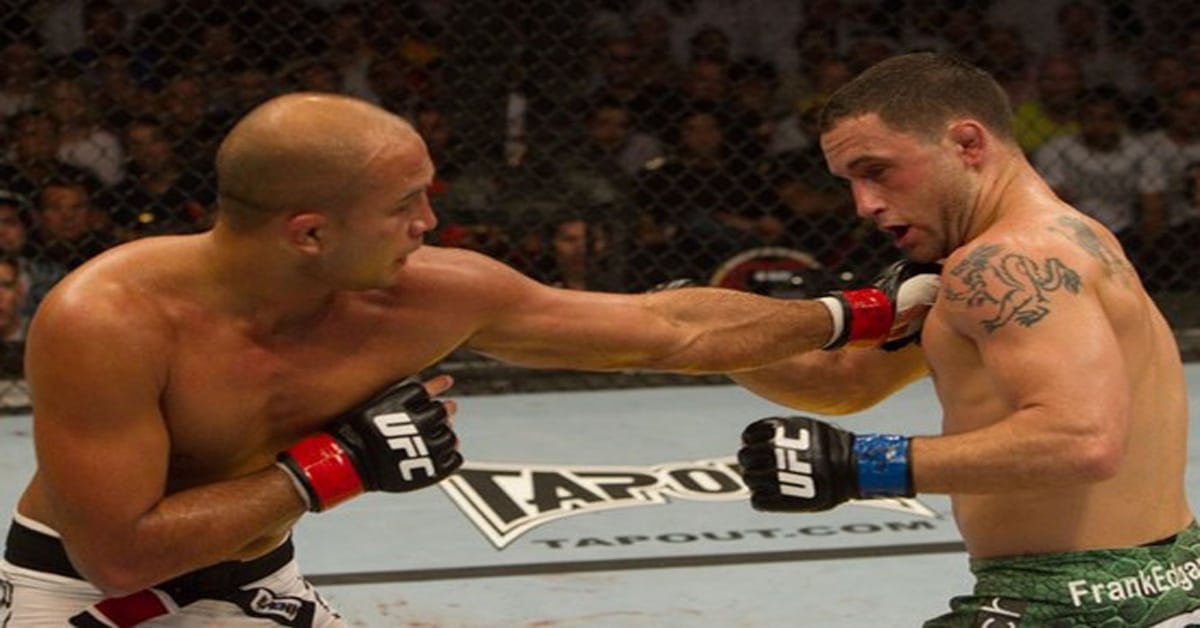 After losing the lightweight title to Frankie Edgar Saturday night at UFC 112, it has been a long couple of connecting flights from the United Arab Emirates back home to Hawaii for Team BJ Penn. Fresh off the plane, Penn's coach Rudy Valentino spoke with Cage Potato about what went wrong in the fight and what is next for Penn.
All three judges scored the fight for Frankie Edgar – for what it's worth I scored the fight for Edgar as well – but every single round was close and was difficult to score. How did you view the outcome?
One judge scored every round for Edgar but what I saw in the fight when I was watching it, and I haven't watched it again on tape, but watching it as it happened, I felt that BJ won the first three rounds. The fourth round was even and I think he lost the last round. So I feel BJ won the fight. He was also battling a sinus infection and was on antibiotics, so he was not one hundred percent. I'm not making any excuses, that is just what happened. I didn't see him lose that fight but I did see him lose the last round. As for effectiveness of punches, I thought BJ had it. Frankie got two takedowns but BJ got up real fast and nothing happened on the ground there, so I don't know if they could score the fight based on those two takedowns.

People who are not fans of Penn might still think that sounds like an "excuse."
I'm not taking anything from Frankie Edgar. He fought a real good fight and had a good strategy. His stand-up was good, he was moving a lot in and out real fast. Frankie fought a very good and strategic fight. I don't want this to be about criticizing Frankie because I like him and he fought well.
It was a close fight and reasonable people can certainly feel that either guy edged out the other, but there is no way you guys wanted it to be that close, no fighter would want to leave it to the judges. What went wrong in the fight to make it closer than you all had wanted it to be? From my seat looking back at the fight it struck me that BJ didn't fight the bigger man's fight. For the first time in a while he was not the smaller and much quicker fighter. Frankie is quick and shorter than BJ. Yet, throughout their fight, BJ wasn't first and he didn't use his jab enough. He also didn't make Edgar feel his weight by going for takedowns, putting him against the cage or putting him on his back, where he would have had a big advantage. Is that what you saw as well?
One of the mistakes, well, I wouldn't say mistakes, but one thing that BJ couldn't this fight was get his combinations off. He would throw one punch at a time. It was one punch and then come back with one punch. When he came back in the corner in between rounds I told him to try and get more punches in and to go from punches to takedowns – to work something on the ground. From the second round on I was telling him to take it to the ground. I even told him that if Edgar took him down to keep it on the ground that way as well. Once I saw that Edgar was doing pretty good with his standup, I thought it was a good idea to take it to the ground.
Going into the 5th round I told BJ that he had to win this round to win the fight. But sometimes things don't go the right way. Being on antibiotics and struggling to get better from being sick and having a fever over the course of two weeks, these were some of the factors that slowed him down. That wasn't the BJ Penn that we had in camp for three months going through sparring partners the way he did. We never took Frankie Edgar like he wasn't a world contender. We took him very serious. We knew he could do damage to BJ in stand up and with takedowns. We were working BJ Penn wasn't 100 percent, what you saw in the fight was him battling being sick. He didn't want to call Dana three weeks before the fight and cancel because he was sick. BJ being the champion that he is just went in there and fought.
But yeah, in my opinion, BJ was countering too much and just waiting. What happened was he was trying too hard in a couple rounds. He needed to relax a little bit more. He could feel something was going wrong in the fight.
Even before the fight started, BJ looked a little softer than he had in his last few fights at lightweight. Not that he isn't in infinitely better shape than we'll ever be, but his look combined with the fact that he seemed to be slower and more tired late in the fight when he hadn't gotten overly tired in his previous fights makes me wonder if he was doing the same type of work he did before, for this fight. He decided to bring his training camp back to Hawaii for this fight. In his last one, he took it to California to better focus. Was BJ doing the conditioning training that he needed to prepare for Frankie?
Yes. We had the Marinoviches come over. We had the camp the exactly how we did the previous two fights. When he gets sick, some people recover quickly but it took awhile, a couple weeks to recover. He wasn't able to train for a couple weeks so that makes it tougher. But people react differently to that type of stuff. But BJ trained the way he needed to prepare and worked just as hard on his conditioning as he did for the last couple of fights.
So the fight doesn't go your way. It was a huge upset. People haven't really heard form BJ or his camp yet – what did he say after the fight, what did you tell him?
When we got back into the locker room BJ said 'Sorry guys.' He did the best he could after being sick and all of that. He said, "I did the best I could. I couldn't get things off and going. I wanted to do something and couldn't get it to come out." He apologized to us but I told him "Hey, just got to go back to the camp start training and get going." Everything happens for a reason and maybe this reason is next time we get sick don't fight (laughs). Who was the better man that night? That's what it came down to.
This next question is one I had for you guys before this fight. Given that BJ hadn't lost at lightweight in about eight years prior to Saturday, people were talking about him moving up in weight again. He even said that if things went well against Edgar he would consider testing the waters at 170 again. We know he is willing to do it and that he can do well at higher weights, but it just doesn't seem fair to me for him to take on such heavier guys. I look at him and see a 145-pounder. He won the Mundials at around that weight, and though that was a long time ago, he doesn't look super leaned out at lightweight. It is a different sport but Oscar De La Hoya, for example, fought the best of his career at 147 and he's 5'11. BJ is 5'9. He always seems interested in making history – so had you all ever considered moving to 145 to become the first person in MMA history to win world titles at three different weight classes?
No, because making 155 is the limit for BJ, I feel, to be honest. He had considered 170 again just to fight GSP. But we had long talks about what he was going to do and he wanted to stay 155 to make his legacy in that weight division. We are now just waiting for Dana to give us the call for Frankie Edgar again.
So if you had your way as a coach, you'd want an automatic rematch for BJ against Frankie?
Straight to the rematch. I was talking to BJ and we are looking for a straight automatic rematch. We don't know when but we'd like it in Hawaii.
Those ideas of moving up again are gone then for now?
There is no moving up right now. That is not in our plans BJ wanted to have another fight in 155 after Edgar before trying welterweight again. I just spoke to him and he has no plans to move up again. We want to fight Frankie again as soon as possible. If he had won this fight he wanted to fight every month and a half. Had he defended the title, he wanted to fight again within the next month and a half and that was our plan, that's how training camp was going. We just have to wait for Dana's word.