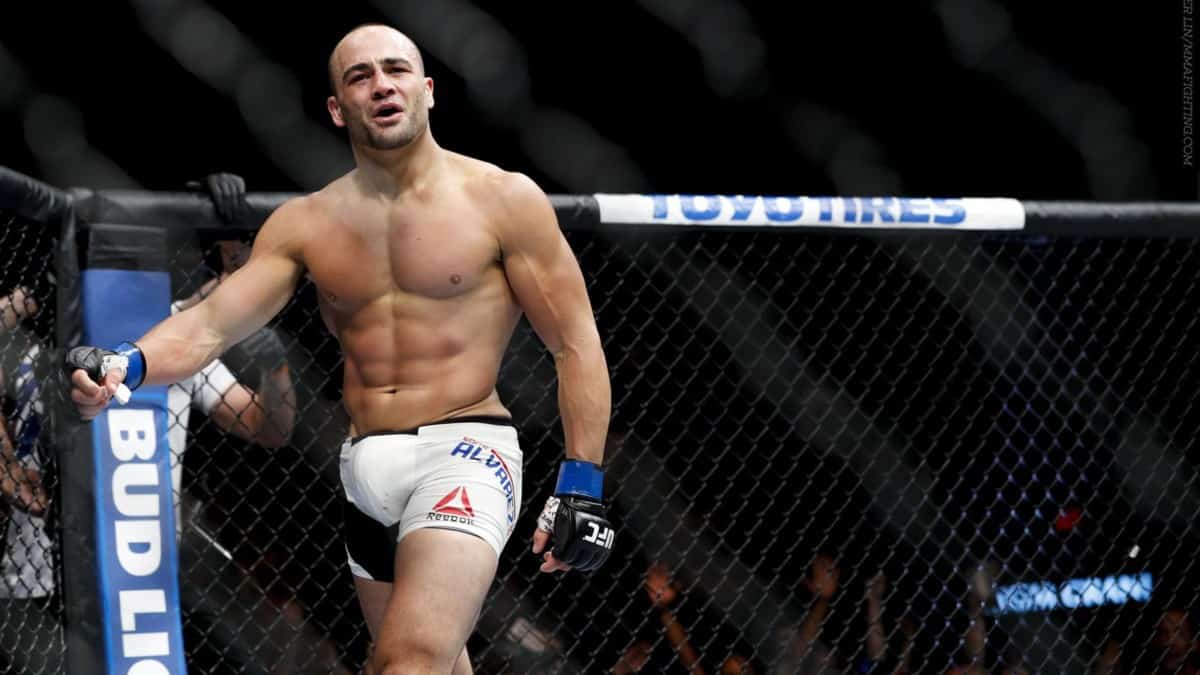 Former UFC lightweight champion Eddie Alvarez is claiming that he almost replaced Tony Ferguson in the biggest fight thus far this year.
It's well known by now that the fight between Ferguson and Khabib Nurmagomedov has been canceled. They were supposed to fight for the lightweight title at the upcoming UFC 223 pay-per-view event.
However, it won't happen as Ferguson had to pull out of the fight with an injury. This marks the fourth time that the promotion made this fight official.
During a recent Instagram Live video from his personal account, Alvarez noted that UFC featherweight champion Max Holloway wasn't the only fight that UFC President Dana White and other UFC officials reached out to in order to find a replacement for Ferguson.
The former UFC champion mentioned that once the promotion asked him for potentially stepping in to save the card, which in turn he told them that he was unable to make the lightweight limit on such short notice.
"Me and my wife were getting ready for Easter and I got a call from Lloyd, my manager," explained Alvarez (transcript courtesy of MMA Fighting). "It was April first so just like you guys, I thought it was an April Fool's joke. Then he told me Tony got hurt and when he told me how Tony got hurt, I really thought it was an April Fool's joke, so I'm just as shocked and disappointed as you guys are.

"It would have been great to be ready for that fight and be ready to step in and save the day, but unfortunately, I am way, way too big to make the 155-pound limit on six days' notice. I think most guys at 155, especially in the top five, can't make that 155-pound limit on six days' notice."
The former UFC champion was last seen in the Octagon when he KO'd former WSOF Lightweight Champion Justin Gaethje on December 2, 2017 at UFC 218.
"I'll be honest, I'm disappointed in myself a little bit because I kind of had the foresight to see this happening," said Alvarez. "I even talked about it happening but when it got like three to four weeks out, I just said 'F**k it, these guys are gonna fight. There's really no reason for me to be ready.'

"I'm every bit of 190 right now so there wasn't even a small chance that I could make 155. . . I asked about doing a catchweight at welterweight but all they asked me was what's the lowest that I could get to. I'm probably a little more than 190. I'm heavier than I've ever been because I haven't fought in a long time."

"Unfortunately, I wasn't able to take advantage of that opportunity, but to be honest with you, my real feelings on it is that Khabib is not the fighter that you take on six days' notice," said Alvarez. "In order to beat Khabib, you need to be conditioned, No. 1. He already poses a unique style but number one you have to be very, very well conditioned. Beating Khabib on six days' notice is a very, very, tough, tough ask."

"To do it on six days' notice, my hat's off to Max. . . Max Holloway's a f**king beast," said Alvarez. "Max Holloway single-handedly ran through his division, fought the best guys in the world, but anybody who's a fighter understands the difference between someone who's in the peak of their training camp and the difference of someone who is just starting their training camp. It's a vast difference. We're not gonna see the real Max Holloway on Saturday. We're just not. as much as we love Max Holloway, and as much as I think the world of him and he's a great champion, we're not gonna see the real Max Holloway on Saturday."
UFC 223 is set to take place on Saturday, April 7, 2018, at the Barclays Center in Brooklyn, New York.

The main card will air on pay-per-view at 10 p.m. ET while the preliminary card will air on FOX Sports 1 at 8 p.m. ET and the promotion's streaming service, UFC Fight Pass, at 6 p.m. ET.