Eddie Alvarez lays down blueprint on how to beat UFC star Conor McGregor: 'Wrestle him and slow him down'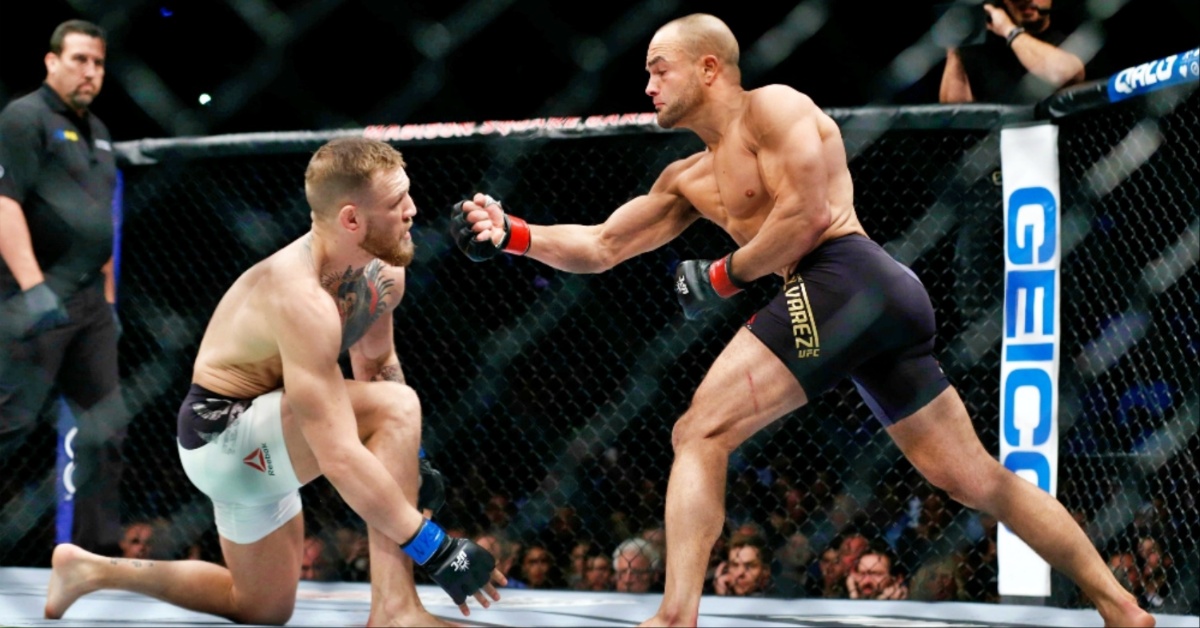 Former UFC lightweight champion, Eddie Alvarez, believes Michael Chandler will need to fight smart and play to his strengths in order to have his hand raised against Conor McGregor.
Chandler is slated to square off with the Irishman later this year once the pair wrap up their upcoming season of The Ultimate Fighter. Premiering on May 30, the latest season of the UFC's long-running reality series will pit the two lightweight leather-slingers against one another months before they step inside the Octagon.
Since making his promotional debut in 2021, Michael Chandler has established himself as one of the more exciting fighters in the UFC. Rather than using his wrestling skills, the former Bellator champion has opted to throw caution to the wind by letting his hands do the work. While it has made for a series of incredibly exciting contests inside the Octagon, it has also left Chandler with a less-than-stellar 2-3 record under the UFC banner. If Chandler hopes to score what would be the biggest win of his mixed martial arts career, he needs to play to his strengths. That's the opinion of former UFC lightweight champion Eddie Alvarez.
Speaking with ESPN MMA, Eddie Alvarez suggested that Michael Chandler's best path to victory is to use his wrestling, zapping McGregor of his cardio and leaving him without his legendary power in the later rounds.
"Mike Chandler's a hell of an athlete, I just think stylistically the way he's been fighting and the strategy he's going about fighting isn't the way to get it done against Conor McGregor," Eddie Alvarez said. "I would implore him if I was his coach to change his style, to go for single legs, to go for shots, and force Conor to wrestle early."
"You have to force him to wrestle early so he doesn't have the powerful tools that he's able to take advantage of in all these other guys. Wrestle him early enough and tire his shoulders down, tire his legs down, and slow him down and he's half the striker that he can be when he's fully energized."
Eddie Alvarez urges Michael Chandler to fight "selfishly" for most success
Eddie Alvarez recognizes that Michael Chandler's high-octane style has certainly made him a lot of money and immensely popular, but when it comes to capturing and keeping UFC gold, fighters need to use their best tools. Thus far, that is something Chandler simply has not done.
"The problem with Mike Chandler that I'm seeing is that he's trying to please the fans too much," Eddie Alvarez explained. "That doesn't always win you a world title. Pleasing the fans is great, it'll make you millions of dollars, it'll do all that. But getting to the gold and keeping the gold, it's sort of a selfish thing and maybe he needs to be a little more selfish in his game planning to win the fight rather than excite the crowd."
Michael Chandler stormed into the UFC with a vicious first-round knockout of Dan Hooker at UFC 257. Since then, he has gone 1-3 inside the Octagon, though his losses have come against some of the absolute best fighters in the world; Charles Oliveira, Justin Gaethje, and Dustin Poirier. Aside from his win over Hooker, Chandler also holds a highlight-reel-worthy knockout victory over Tony Ferguson in May 2022.