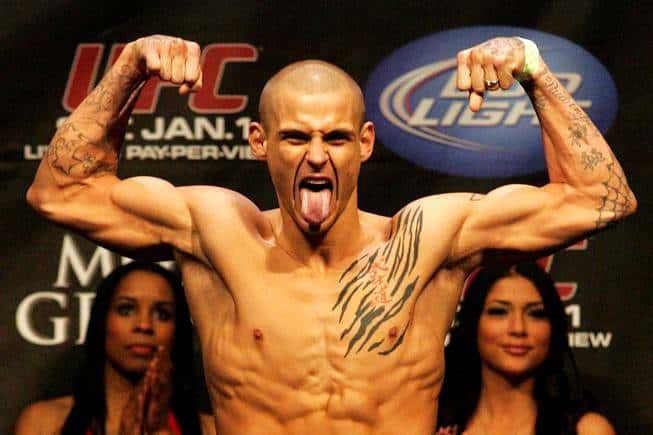 A glimpse of UFC 178 Dustin Poirier vs Conor McGregor? "Diamond" says he will bully "The Notorious" in Las Vegas
UFC featherweight Dustin Poirier will go up against one of the most hyped fighters in recent history this Saturday (Sept. 27th, 2014), as he is scheduled to face Conor McGregor on the UFC 178 main card. Currently riding a three fight win streak in the division, "Diamond" might just be flying under the radar at the Las Vegas event.
With most of the focus on his brash opponent, Poirier will be looking to upset the fan favorite come Saturday night, but he says that won't be a problem. Check out what he said to MMAFighting.com:
"Yeah, they've given him a lot of hype and have been pushing him and all that, and I'm not sure if it's because of him representing such a big market in Ireland or because they really might think they have something with this guy," Poirier says. "But man, I've built where I'm at with my bare hands, you know? And I take pride in that. And when they do that to guys…I've been busting my ass to be where I'm at. I live this life."
The feud with "The Notorious" may not go down as the biggest in history, but the fight itself holds many significant ramifications. First off, McGregor stands to be right in line for a title shot, or at least a contender match with a win on Saturday. For Poirier, he could de-rail one of the biggest hype trains today, and put in his own bid for title contention. He continues:
"But if you watch his footage I don't think he is. He's knocked guys out, but he's more of a point-fighter. He wants to throw stuff and look pretty and be unorthodox and circle. He doesn't want to fight. So I'm going to bring the fight to him. I'm going to stay in his face. I have ultimate confidence in my skills on the feet and on the ground, so I feel like I can finish him anywhere it goes. I'm just going to get in there and be the bully. He tries to bully guys [outside the cage]; we'll see how he handles it when it happens to him [inside]."
It's a fair assumption to make that "Diamond" will need to stifle all of McGregor's offense, letting "The Notorious" build up a head of stem once the cage door shuts would be a foolish move. The question is can Poirier keep up with McGregor's speed and pace?
"I have a long ways to go, but I've already been down a long path," he says. "This is my 29th mixed martial arts fight, and I'm 25 years old. I'm comfortable. It's been such a journey of learning and honing your skills I feel like I've still got a long, long ways to go. Every fight, every camp I learn about myself and I get better. But every fight I get better. I try to work on the small things. At this level of fighting and where I'm at now, it comes down to timing. I think I'm going to be one of the best in the world. It's just putting it all together."
So there you have it; both guys feel that it is their time to shine, but only one can emerge as the winner on Saturday. Will Poirier prove that McGregor is nothing more than hype, or will the Irish bad boy impress in his first pay-per-view showing? Stay tuned to LowKick.com for all the UFC 178 pre-fight hype and coverage.