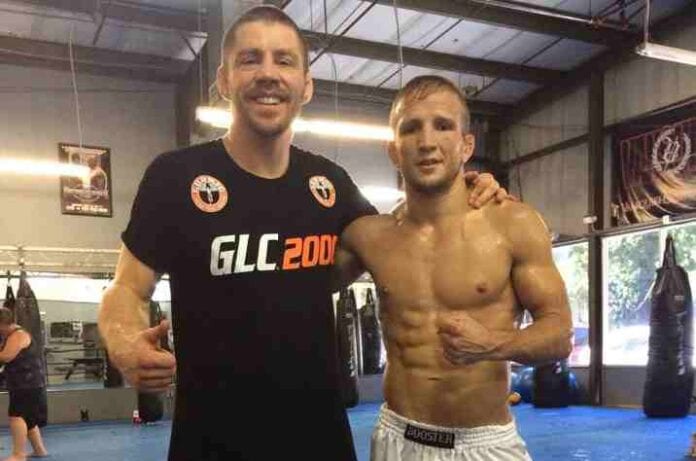 UFC bantamweight and former WEC featherweight champion Urijah Faber once again engaged in trash talking Duane Ludwig earlier today, firing serious accusation of racism, assault, sexism and extortion at his former coach. Stemming from a year of beefing after 'Bang' left Team Alpha Male' to open his own gym, the feud is a result of a steady rift that began to build when Ludwig went public about moving from California to Denver, Colorado.
Ludwig hasn't let Faber's recent comments linger, as he tells MMAFighting.com that jokes come from all angles at the gym, and he's not a sexist either:
"I don't know what the hell he's talking about," Ludwig said. "There's jokes floating around the gym all the time. For him to point me out, like what the hell dude?"
"I wouldn't say I'm against women's MMA," Ludwig said. "I do feel uneasy seeing a woman get punched in the face. That, I don't like. Women's grappling and wrestling, that's cool. But seeing a woman punched in the face, I don't really necessarily like that. There's awesome women's fights, but it still makes me feel a bit weird. But yeah, I don't like to train women."
On top of the allegedly offensive behaviour towards women and other ethnic groups in the gym, Faber lambasted Ludwig for assaulting an Exec at a UFC show. He also claims that 'Bang' tried to extort money from his team for unwanted sponsorship work, and that his ex-coach would constantly hassle him for money. Ludwig continued:
"I think he's got a lot going on," Ludwig said. "He doesn't quite keep tabs on the things that he says and things get lost in the shuffle. He's in the position where no one really questions him. I've been around him for two years and no one really questions him. It's his show, except for when it comes to me. If something that was supposed to happen doesn't happen, then I'm going to ask you about that. That goes for anybody.
"He does great on the mic, but he might be just a little bit punchy. And I'm not trying to talk crap or whatever. But he gets cracked hard with a lot of shots and I don't think that helps, either. When you tell me you're gonna do something, I expect that. It's called being a man of your word."
There's perhaps nothing more offensive for a fighter than to be called punchy, especially by your former coach. On to the UFC executive, that 'Bang' reveals as former WEC head Reed Harris. Ludwig says that Faber is making a mountain from a molehill, and that the alleged incident in question was ironed out pretty quickly:
"We figured that out," Ludwig said. "Me and Reed are cool. That was a total misunderstanding. I actually talked with Reed about that, too, and we squashed that."
Serious allegations from Faber, and it seems that Ludwig is happy to give reasonably generic answers, albeit addressing all of the concerns pointed out. So what do we have here? It's definitely a legit feud, but is 'Bang' as much of a nightmare as Faber is making out?
We'll keep you updated as this story evolves.