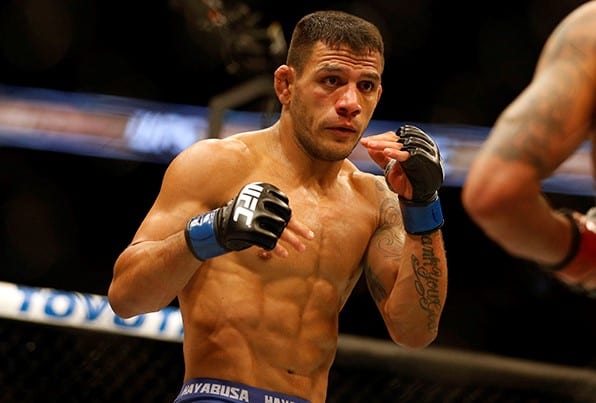 Over the weekend (Fri. November 30, 2018) Rafael dos Anjos suffered another loss inside the Octagon.
Rising welterweight Kamaru Usman bested "RDA" inside thePearl Theater in Las Vegas, Nevada. The pair main evented The Ultimate Fighter Season 28 Finale inside the Pearl Theater in Las Vegas, Nevada. It was the Brazilian's second consecutive loss inside the Octagon. He previously lost to Colby Covington back at UFC 225 in June.
Now, the former UFC lightweight champ has a long way to go if he wants to get a crack at the 170-pound belt. His last win came in December of 2017 when he defeated Robbie Lawler via lopsided decision. However, Usman's grappling ability proved to be too much for dos Anjos to handle in Las Vegas.
He recently took to Instagram and offered a statement regarding his loss. Check it out here:
"It has been 15 years fighting MMA, 10 years of UFC, 39 fights, being the first Brazilian champion in lightweight. A lot of stories to tell, several fights in my career, several scars that I carry on my body.
"The fighter life is just the same. One day you win and another day you lose, but even in defeat I am grateful for my team, coaches, family, friends, fans, sponsors and God for the opportunity to use my gifts and live from what I love the most.
"I will always react with strength and dignity, even when things do not go my way, I will trust in the Lord who is in control of everything, I will turn around and I will come back stronger.
"Nothing like getting home and realizing how blessed I am with a beautiful family. Thank you everyone."
Dos Anjos struggled to cut weight at 155 pounds, and seems to be a bit too small for the top fighters at welterweight. Perhaps a potential 165-pound division would better suit "RDA" if the UFC decides to go that direction.
If you enjoyed this story, please share it on social media!