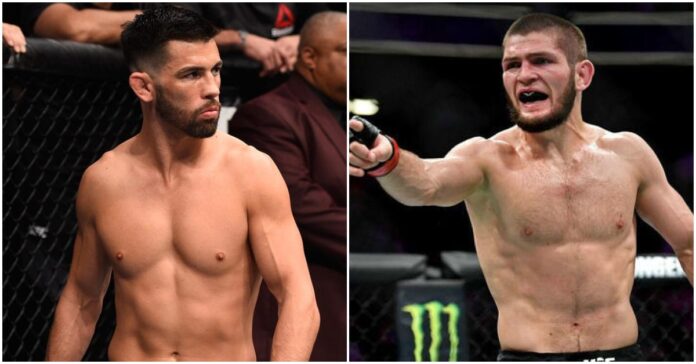 Dominick Cruz believes that suffering defeat is a part of the sport and anyone who has managed to retire without suffering a loss probably hasn't pushed themselves hard enough.
During a recent appearance on The MMA Hour, Cruz questioned if anyone who leaves the sport with an undefeated record is actually that or just someone who hasn't truly tested themselves, he said.
"Any athlete who left the sport undefeated, I question: 'Are you really undefeated, or did you not challenge yourself as hard as you could have? And if you did, what would it look like on the other side?'"
Dominick Cruz Appears To Be Talking About Khabib Nurmagomedov
Cruz wouldn't mention him by name, but it seems obvious that he is talking about Khabib Nurmagomedov.
'The Eagle' made three successful defences of his lightweight title before retiring at the age of 32 with a perfect 29-0 record.
"I get it, you're undefeated — but like, are you undefeated, or could you have just pushed a little harder to get that next level and get that loss? And then come back and reclaim the loss with a win and see what your next level, your next evolution in life is? It's not all about just winning and losing and being perfect. Nothing in life is that."
"You can't dodge loss. You can't dodge pain. You can't dodge any of it. So what's the point? You might as well just go right through it. The question is, when it does happen, what are you going to do with it? Are you going to just give up and say I'm retired and quit, or are you going to get back on the horse and see what else you can be?"
Cruz appreciates the fact he's had to overcome so much including losses to reach the pinnacle of the sport.
"I was fortunate enough to have that experience, and I'm still on that ride, and let's see what comes next," Cruz said.
Do you agree with Dominick Cruz? Do you question fighters who walk away from MMA with an undefeated record?