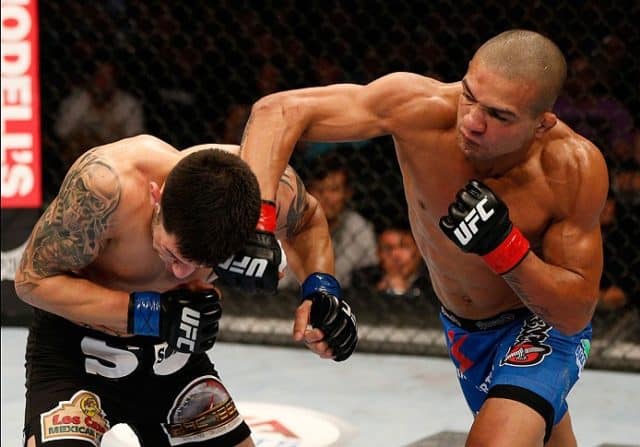 After nearly four-and-a-half years and 10 bouts, the UFC has released The Ultimate Fighter (TUF) 14 winner Diego Brandao according to a report from Sherdog garnered from sources close to the situation.
The move comes in the wake of some disturbing out-of-the-cage trouble for Brandao, as he was recently arrested in Albuquerque, New Mexico, for allegedly threatening and pistol-whipping patrons at a local strip club. Prior to that disappointing incident, Brandao also tested positive for marijuana metabolites in an in-competition test for his UFC 195 loss to Brian Ortega, which earned him a temporary ban while he awaits his full punishment from the Nevada Athletic Commission (NAC).
The promotion has not made an official announcement about the news, but if does indeed prove true, Brandao will leave the Octagon as one of the most failed realizations of talent in years. He absolutely steamrolled into the UFC by winning TUF 14 in 2011 as a member of Michael Bisping's team, defeating current top featherweight Dennis Bermudez by submission in the Finale. He then parlayed the win into a highly-publicized feel-good story by buying his mother a house with the winnings.
But from then on, it was mixed results for Brandao, who lost his first official UFC bout aside from TUF to Darren Elkins. He then won three bouts in a row, but hit a big roadblock when he faced top-ranked competition like Dustin Poirier and Conor McGregor. Two wins over Jimy Hettes and Katsunori Kikuno earned him his shot at prospect Ortega in January, but he lost to a "T-City" triangle choke after winning most of the fight up until the final round.
He put on exciting fights in each every bout whether he won or lost, so the personal issues with drugs and violence most likely were the main cause of his release if that does prove to be the case. And that's a shame, because Diego Brandao once had arguably the most promise in MMA.
If you enjoyed this story, please share it on social media!