The mixed martial arts (MMA) world was dealt an incredibly disheartening blow this afternoon when it was revealed that former UFC welterweight champion Matt Hughes was in serious condition after being airlifted to a nearby hospital following a collision with an oncoming train in his home state of Illinois this morning.
Dana White gave some initial details of the accident, stating that Hughes family was en route to be with the 43-year-old MMA star, describing what seemed to be very daunting injuries.
Hughes' official condition remains uncertain at this point, but some specifics of the accident were released by Marcia Martinez of The State Register-Journal. Apparently Hughes had driven his truck directly onto the tracks where a train was passing, resulting in a collision with the passenger side of his vehicle:
"Hughes, 43, was taken to a Springfield hospital by helicopter. His condition was not immediately available, but Illinois State Police described his injuries as serious.

Illinois State Police said Hughes was heading east on Beelers Trail about 10:45 a.m. and crossed the railroad tracks directly in front of the train. The train struck the passenger side of the truck.

The crossing was marked only with a sign, state police said.

Officers with the Illinois State Police Crash Reconstruction Unit are investigating the crash."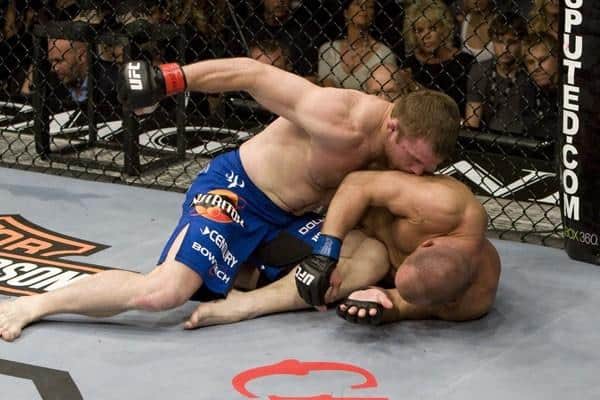 Officers will investigate the unfortunate circumstance while Hughes' family, friends, and his legions of fight fans pray for recovery from the decorated former champion, who is regarded as one of the best welterweights to ever compete in the sport of MMA.
Hughes dominated the UFC welterweight division for the better part of a decade when he exploded into the octagon by winning the belt with his now-historic KO win over Carlos Newton in 2001. Hughes went on to defend that championship five times before losing it to then-rising star BJ Penn, only to win it back when "The Prodigy" vacated it with his legendary armbar submission over a still-rising Georges St-Pierre at UFC 50 in 2004.
The Illinois wrestling powerhouse defended the belt two more times against Frank Trigg and Penn, setting up a rubber match in one of Hughes' final UFC bouts. His rivalries with St-Pierre, Penn, and Trigg undoubtedly ranked as the most heated in the UFC at their time, and produced some truly historical moments in the semi-early days of the rapidly developing combat sport.
Overall, the dominant grappler boasted a 16-6 overall record in the UFC including T/KOs and five submissions in one of the greatest MMA careers we've ever witnessed.
Hughes retired in 2011 and took on a job with the UFC under previous promotional owners Lorenzo and Frank Fertitta, and was recently talking about returning to fight if he somehow got the right match-up, even teasing a rematch with fellow legend Royce Gracie, whom he demolished when he was in his prime during the UFC pioneer's return to the octagon in 2006.
Chronicling Hughes' amazing career as a whole truly makes the tragedy of his unfortunate scenario even more heart-wrenching, so myself and all of the LowKick team send nothing but the best out to Matt, his family, his friends, and all of his fans. We'll keep you updated on any new developments surrounding the matter.