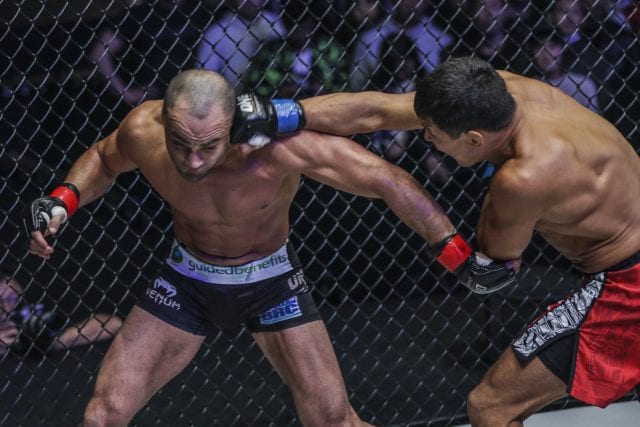 Two former UFC stars made their debut at Sunday's (Sun., March 31, 2019) ONE Championship: A New Era from Ryōgoku Kokugikan in Tokyo, Japan. One was former UFC flyweight champion Demetrious Johnson, while the other was former UFC lightweight champ Eddie Alvarez.
Things did not go so well for Alvarez. He was knocked out in the first round of his ONE debut by the lesser-known Timofey Nastyukhin. Johnson's awaited ONE debut went much better, as he submitted Japan's Yuya Wakamatsu in the second round of the next fight at A New Era.
'Mighty Mouse' addressed Alvarez' loss in a post-fight interview with MMA Fighting. He knew the fight would be a barnburner once he saw Nastyukhin's tendency to stand and trade like Alvarez:
"I think that fight between Timofey Nastyukhin against Eddie Alvarez was a great fight. Timofey is very good, that was the first time I've ever seen him fight. Then I saw some of his highlights and I was like, 'Oh man, this is going to be a good fight because I know Eddie, he likes to stand and bang, and Timofey will do the same thing."
Reason For Losing
As far as for why Alvarez lost, Johnson speculated that it was because he was now fighting bigger opponents in ONE. With that said, he expected "The Underground King" to regroup and bounce back strong:
"And once again, you know, Eddie's fighting bigger dudes. Somebody was like, 'Damn, Timofey's huge!' Eddie's used to fighting guys who are 5'8", maybe 5'9", I don't know how big he was. But you know, Eddie will bounce back, He'll go home, and re-figure things out and see where he goes from there."
'Mighty Mouse' and Alvarez weren't necessarily a 'package deal,' but they did sign with ONE in close proximity to one another. When asked if Alvarez' loss affected him mentally, Johnson said it didn't. He knows he and Alvarez are two completely different fighters. He knew he would face adversity in his own fight, so he remained focused on the task at hand:
"We're two different athletes. We have two different skillsets, obviously, and like I said, I knew I was going to battle adversity. You always do. If you go into a fight not thinking you're going to battle adversity, you're going to have a big mental block and be like, 'Damn I thought this was going to be easier.' So, I didn't let Eddie's performance affect my performance or my mindset. I was focused on going out there and taking it to Yuya Wakamatsu, and that's what I did."
If you enjoyed this story, please share it on social media!