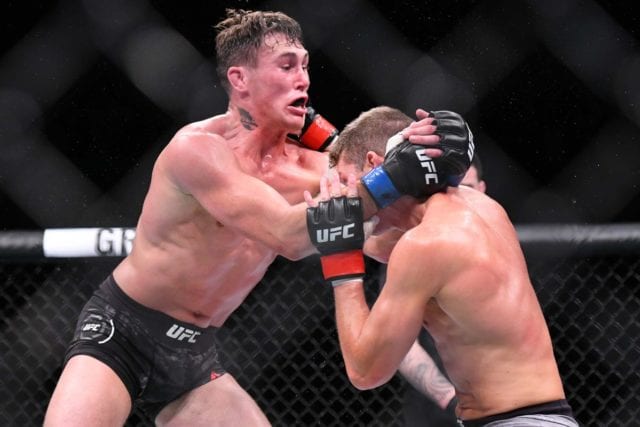 Darren Till has reacted to his latest opponent, Stephen Thompson, wanting a certain move banned from the sport of MMA.
Till is coming off the biggest win thus far in his pro-MMA career in the main event of UFC Liverpool event back in May that aired live on FOX Sports 1 at the Echo Arena in Liverpool, England, the rising prospect picked up a unanimous decision win over former title contender.
Despite having a tough week leading up to this fight including missing weight, he was able to pick up a notable win over a top name and many believe he is in the running for a crack at the strap except for Till himself. After the fight, Thompson revealed that he tore his MCL in the bout and as a result of it, he demanded that the commissions around the world should ban the oblique kick to the knee that Till used against him because of the damage. Now, Till has responded to the claims made by Thompson.
"I saw the interview did," Till told MTKGlobal recently. "If he wants leg kicks banned, why don't we ban spinning head-kicks to the face while we're at it?

"I was not trying to hurt his knee. I was trying to deaden his leg to stop him using it. That was my strategy. I know he's had surgery on his left knee and I was not trying to cause him another injury in that area but this is a fight and we're in the most brutal sport in the world. In my opinion, you can't really come out and say you want this thing banned or that thing banned."

"If a rematch with Thompson is what the UFC want me to do, I'll do the rematch," Till said. "If he wants another fight, it'll be the different this time. I'll be much stronger. If he wants it, he can have it. I'm not one for turning down a fight – especially not a rematch."
It should be noted that the reason Thompson dropped from number one to the fourth spot after his loss to Till because of that loss, as well as Colby Covington, winning the interim welterweight title in a victory over former UFC lightweight champion Rafael dos Anjos at UFC 225.
Thus, this leads the promotion to try to book Tyron Woodley against Covington for the welterweight title later this year, which leaves Till out in the cold of the title picture and waiting for his next fight to be made.
If you enjoyed this story, please share it on social media!