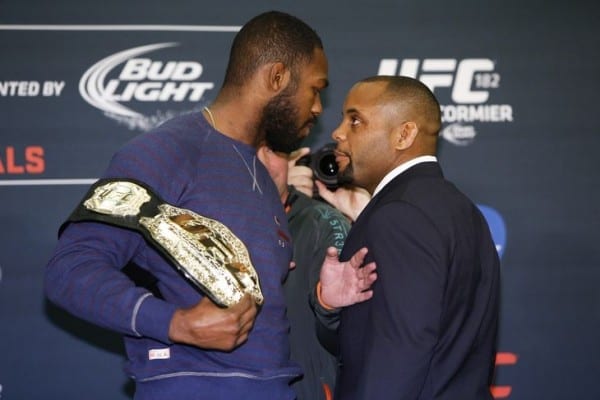 The rivalry between Daniel Cormier and Jon Jones has been going on for nearly two years now and the two were slated to finally rematch in the main event of July 9's blockbuster UFC 200 from Las Vegas, Nevada. The rematch, however, never came to fruition, as "Bones" was pulled from the bout just days prior after being notified by USADA (United States Anti-Doping Agency) of a potential anti-doping violation.
With Jones' immediate future in the sport unclear, Cormier needs a break from the rivalry, as he claims that it has turned him into an 'ugly' person:
"I need a little break from him, because this rivalry has made me ugly," Cormier said on The Jim Rome Show. "It makes me react and behave in ways that I don't usually behave. I'm the guy that's smiling and hanging out and having fun. I'm the guy that will sit and talk to people and try to make people feel good. That's why when people say stuff like that, it's because they know me on a level that's much different than what you see when I'm around Jones. It really does make me into a different person. So I really do need a break from him."
Jones' run in with USADA is only the latest in a long list of troubles outside of the Octagon for the pound-for-pound great. In facts, it drives Cormier crazy to see an athlete as talented as Jones behave this way:
"It just drives me crazy. Again, this is a guy who has the world at his fingertips, and I've worked hard to get to where I am, and I'm sure he has too, but I try to not make mistakes to actually screw it up," Cormier said. "A lot of times I watch professional athletes and think why are they intent on throwing this away when they have the ability to help so many people."
In the aftermath of Jones' fallout from UFC 200, former long-time middleweight champion Anderson "The Spider" Silva was called on to fight Cormier on extremely short notice in a bout many thought Cormier would batter Silva in. Although "DC" took home a dominant decision victory, the fans weren't too impressed with his wrestling-heavy attack.
Cormier, however, admits that he was a bit star struck by Silva:
"All day Friday I'm telling myself I'm just going to smash him, I don't care that its Anderson Silva, I'm just going to smash this dude. And when I looked across from him and he's crouching, he's in his Spider position.
"In that moment, I did kind of have that one moment where I went wow, that's Anderson Silva," Cormier said.

Who would you like to see Cormier defend his title against next?