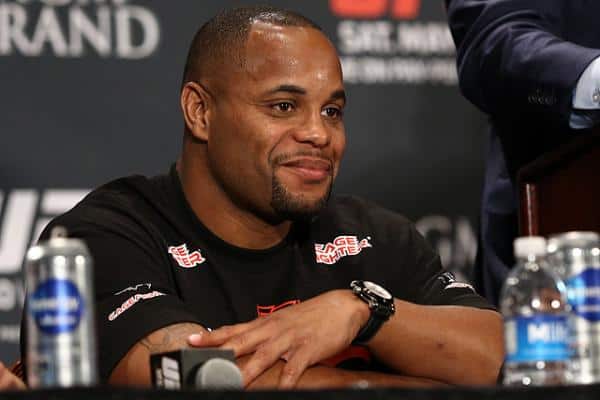 Daniel Cormier doesn't believe Stipe Miocic should be considered the best heavyweight star in history.
The UFC light heavyweight champion is slated to fight UFC heavyweight champion in the main event of the upcoming UFC 226 pay-per-view event.
During the UFC 226 media conference call this week, DC went on record by stating that although fighting Miocic will be the biggest challenge thus far in his pro-MMA career, he doesn't think that Miocic is the best heavyweight star of all-time.
Instead, he believes that former UFC heavyweight champ Cain Velasquez is. Obviously, fight fans could make the argument that DC is being biased due to the fact that he is good friends and training partner with Velasquez at AKA.
This will be a historic moment as in the past there has been no light heavyweight champion that has ever moved up to challenge the heavyweight champion.
"Stipe has proven that he can sustain his success and also we got to watch him from day one. You watched a guy that went to war with [Joey Beltran], Stipe went to war with him and as he continues to fight, you see him evolve. That's why I'm fighting him."

"This is the biggest fight of my career cause I'm fighting the heavyweight champ of the world," Cormier said (transcript courtesy of MMANtt). "The most successful heavyweight champ in the world. I think Stipe is great. Do I think he's the best heavyweight of all time? No. I still believe Cain Velasquez is but I do believe he's the most successful heavyweight champion of all time. Yeah, it's a big fight.

"I've been in a lot of big spots. I've fought Jones twice. I fought at UFC 200. I fought main events and Stipe has too, but I've fought in a lot of big, big spots and I believe this one ranks as high if not higher than everything I've ever competed at."
UFC 226 is set to take place on Saturday, July 7, 2018, at the T-Mobile Arena in Las Vegas, Nevada.
The main card will air on pay-per-view at 10 p.m. ET while the preliminary card will air on FOX Sports 1 at 8 p.m. ET and the promotion's streaming service, UFC Fight Pass, at 6:30 p.m. ET.