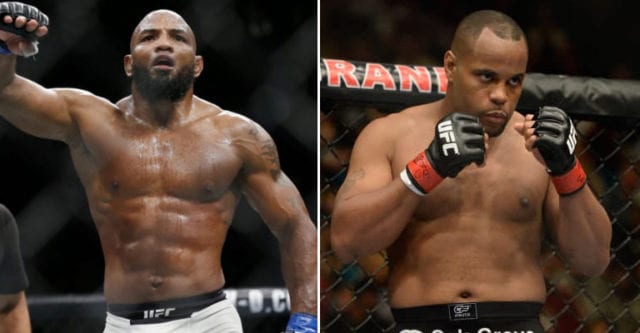 UFC light heavyweight champion Daniel Cormier has an interesting idea for Yoel Romero's next fight.
As seen in the main event of the main card for Saturday's (June 9, 2018) UFC 225 pay-per-view event at the United Center in Chicago, Illinois, Romero suffered a devastating split decision loss to UFC middleweight champion Robert Whittaker.
This marked the second time that Romero lost to Whittaker as they fought last year and Whittaker walked away with the unanimous decision.
Before this fight, Romero went on record by stating in an interview that he would be interested in moving up to light heavyweight and fight Cormier. The only problem with that is the fact that DC is a little busy right now.
The UFC light heavyweight champion will fight UFC heavyweight champion Stipe Miocic at the upcoming UFC 226 pay-per-view event on Saturday, July 6, 2018, at the T-Mobile Arena in Las Vegas, Nevada.
Once this fight was announced, title contender Alexander Gustafsson voiced his displeasure because he thought he was next in line for a title shot. If you recall, the two fighters already faced each other at UFC 192 in 2015, where Cormier won via split decision.
Gustafsson has won back-to-back fights since losing a close split decision to Cormier at UFC 192. In those fights, he scored a unanimous decision victory over Jan Blachowicz and knocking out Glover Teixeira.
Following UFC 225, Cormier went on record by stating that since former UFC middleweight champion Luke Rockhold is on the sidelines with an injury, Romero should fight Gustafsson next. He wrote the following:
"Since [Luke Rockhold] can't fight I know who [Alexander Gustafsson] can fight," Cormier said in a Saturday night Tweet. "Win or lose I say get him in there with [Yoel Romero] let's see this #1 contender fight."
Since @LukeRockhold can't fight I know who @AlexTheMauler can fight. Win or lose I say get him in there with @YoelRomeroMMA let's see this #1 contender fight.

— Daniel Cormier (@dc_mma) June 10, 2018