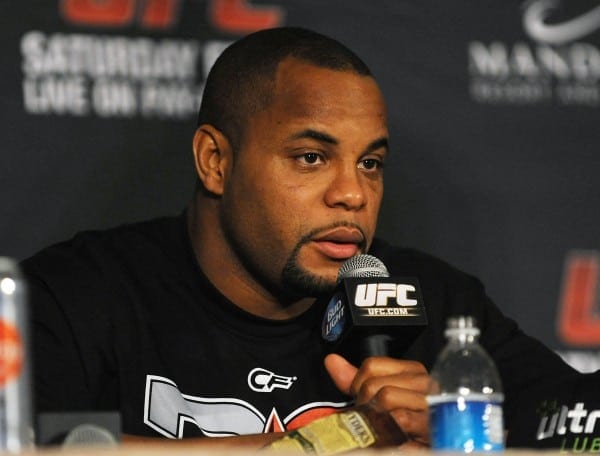 Daniel Cormier is undoubtedly headed for the biggest fight of his MMA career when he squares off with light heavyweight champion Jon Jones in the main event of this Saturday night's (January 3, 2015) UFC 182 pay-per-view (PPV) from MGM Grand Garden Arena in Las Vegas, Nevada.
But the bout is much more than just an opportunity to win a UFC belt. For Cormier, it's a chance to redeem himself where he fell just short as a highly decorated wrestler, coming in second in the 2004 Olympic Games after finishing second in the NCAA National Championships while at Oklahoma State University.
If he can beat Jones and win the UFC championship, he'll fulfill a destiny that he believes his life has been building up to. Yet if you ask his opponent, it's hard to believe that Cormier is an athlete at all.
"Bones" spoke up with some subtle barbs at Cormier's rotund physique earlier this week, and "DC" had a rebuttal at this afternoon's (Wed., December 31, 2014) open workouts. Cormier insisted that he was more athletic than Jones based on their skills on a basketball court (quotes via MMA Fighting):
"""I saw something the other day where Jon Jones said, Daniel Cormier's body doesn't look like an athlete. Well, I can grab the rim of a basketball [hoop]. Jon Jones is 6-foot-4 and he can't dunk a basketball. So who's the athlete?"
The champ admitted that even at 6'4", he still couldn't dunk a basketball. "Bones" said that shouldn't really matter when their main objective is participating in a cage fight, however:
"It's true, I've never been able to dunk a basketball. I've got no calves. Well, I mean, if we're going to take dunking a basketball and sum that up as being a better athlete, I'll give it to him, then. Last I checked; we didn't play on a court."
They certainly do not play on a court of any kind, but that doesn't take away from Cormier's accomplishments as a world-class athlete. Most people feel that if "DC" does in fact defeat Jones at UFC 182, it will be those skills that propel him to victory.
Jones disagrees, instead believing that Cormier's response is just another way to build himself up for a losing battle:
"Cormier needs to do anything he can to build himself up. Right now, his mental game is important. So he's going to say a lot, he's a great talker, he's a commentator for a reason. Saying he's the better athlete, all right, who cares."
With nearly six months of endless trash about to finally come to an end, we're going to find out just who is the better athlete this weekend. UFC 182's main event could be the most hyped and built-up fight the UFC has ever seen, and that's in small part to the fact that two elite athletes will duke it out for the belt.
And like Jones said, playing basketball will probably have very little to do with the end result.
Photo Credit: Stephen R. Sylvanie for USA TODAY Sports