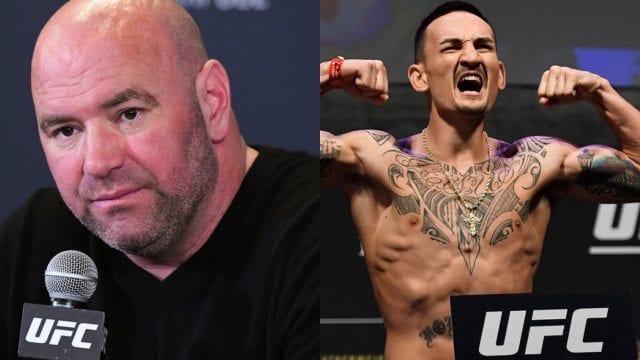 Dana White thinks th current UFC featherweight champion Max Holloway needs to make a change in weight class. This comes off the fact that he had major issues trying to make weight earlier this year and him being a big guy for the featherweight division. The UFC President made these comments just a few days before Holloway makes his next title defense against Brian Ortega in the headliner of UFC 231.
Back in July, Holloway was set to make his next title defense against the top contender in the co-main event of the UFC 226 pay-per-view event. Obviously, that didn't happen as Holloway was forced to pull out of the fight.
According to White, he's not worried about Holloway's weight but does think that he needs to make a change to his pro-MMA career. That change would see him move up to the lightweight division. It should be noted that Holloway made weight for UFC 231.
"It's weird; I'm not nervous, but I should be," UFC President Dana White told MMAJunkie recently. "You know, I didn't want him to fight again at '45. He wanted this fight so bad. He got cleared by every test and doctor and everything we've done. Came in light this week, so we'll see what happens. Yeah, it would be really bad if he didn't make weight."

"I think he needs to go to '55," White said. "He's too big for this weight. You can't keep doing this to yourself and cutting down to '45. But you know what he wanted? He wants this Ortega fight. He wants to fight Ortega so bad. This is the fight he wanted. He got it. He medically got cleared, and he got what he wanted."
If you enjoyed this story, please share it on social media!