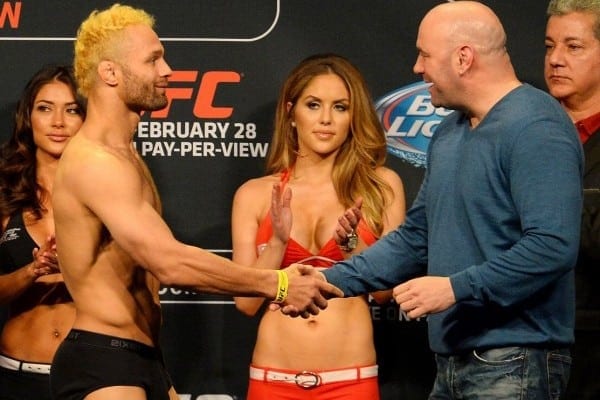 The Ultimate Fighter (TUF) season 1 premiered a decade ago back in 2005 and deserves a ton of credit for helping lead mixed martial arts (MMA) into the main stream.
Prior to the reality show, many looked at the sport as a barbaric form of cage fighting, but the show opened their eyes to a very intriguing and regulated sport.
Both the UFC and its president Dana White owe a lot to the show they created, especially the inaugural cast, which featured many UFC stars. Many of them have retired by now, but one is still competing and just fought last night. Josh Koscheck played a huge role in The Ultimate Fighter with his outspoken, cocky personality that intrigued countless amounts of fans, for better or for worse.
Koscheck reached the pinnacle of his career when he took on former welterweight king Georges St-Pierre for the title back at UFC 124, but has recently hit some rough times. Having been in the UFC for 10 years, and now being 37 years old, "Kos" has lost five straight fights to prompt many to call for his retirement.
He even lost two fights in the last month, getting chocked out by Jake Ellenberger at last month's UFC 184, and getting chocked out once again last night against Erick Silva. However, after the fight last night, Koscheck seemed in good spirits, and didn't really want to talk about retirement just yet, although his UFC contract is up:
"I'm not happy with where I'm at right now," Koscheck said during the post-fight press conference. "I'm 37 years old and the last couple of fights on my contract haven't been great. But I took this fight on short notice and I knew I could come in and make this a fun fight. It didn't go my way tonight, but I showed up and I fight every time. Today is just Erick's day."
President Dana White, speaking on the topic, didn't have a sure answer either. He has a special place in his heart for The Ultimate Fighter season one cast, but even he admits that it may be time for him to have one of those talks with Koscheck, one where he brings up retirement:
"I have a soft spot for the season one guys," White said. "Koscheck doesn't want to retire. He wants to talk in a couple days. I'm gonna try to push him in that direction.
"Josh and I will talk in a couple days and we'll go from there."
After a long and entertaining career, is it finally time for Koscheck to hang up his gloves?