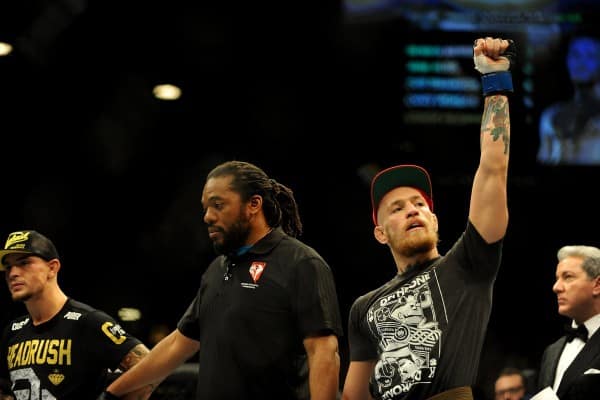 Dana White thinks the next fight that would feature former UFC lightweight and featherweight champion Conor McGregor would be a rematch against Dustin Poirier. The UFC President spoke with media following the TUF 28 Finale event where he gave his take on what should be next for McGregor.
Just a few weeks ago, there was speculation that Donald Cerrone could fight McGregor next. Obviously, the former UFC lightweight and featherweight champion is the biggest name in the sport of MMA right now. On the flip side, Cerrone is still a popular fighter in the UFC who should get a marquee name to face next. However, that appears to not be the case.
The UFC President stated during the post-fight show on FS1 that Poirier would make a logical next opponent for McGregor. By doing this fight, the winner would then fight the winner of a lightweight title bout between champion Khabib Nurmagomedov and Tony Ferguson. This is also where White downplayed the rumors involving Cerrone and McGregor.
"The 'Cowboy' Cerrone fight has never, ever been discussed," White said (H/T to MMAFighting). "That's completely not true. I said the fight that makes sense right now is probably Poirier. And then Tony gets a shot at the title and the two winners fight each other. But I'm not sure exactly on a date when Conor is gonna fight yet. We have to get through this Nevada State Athletic Commission stuff first."
McGregor and Poirier have fought before inside of the Octagon at UFC 178 in 2014. This fight saw McGregor finish Poirier by first-round TKO in a featherweight bout. Time will tell whether or not this fight gets booked.
If you enjoyed this story, please share it on social media!