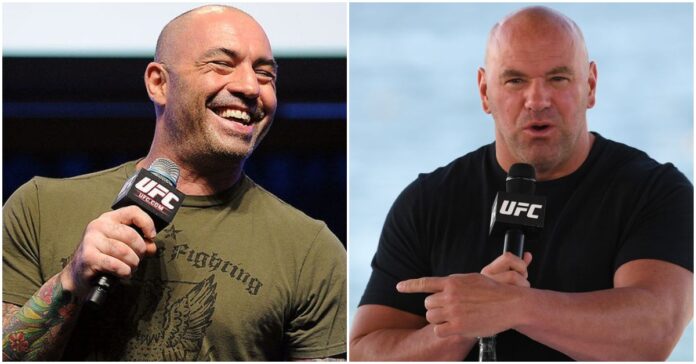 Dana White has given props to Joe Rogan for helping him quickly recover after he contracted the coronavirus.
The UFC president was struck down by COVID-19 last Sunday but unlike most, he has been able to quickly get over the virus and also test negative just five days later.
"I feel incredible," White told TMZ Sports. "Today is day five (since) testing positive for COVID, and this morning at 9 o'clock I tested negative. Thank you, Dr. Joe Rogan!"
White revealed that as soon as he realized, he had COVID-19, he hopped on the phone with the popular podcaster for medical advice.
"In all seriousness, Joe Rogan is a brilliant guy, and he talks to the most brilliant people out there," White said. "He studies, he does his homework on all this stuff and it's a FACT that this stuff works and (it's) not just me.
"So, me and my wife are both 53 years old – we both did it," White added. "My daughter is 15 years old – she did it. My mother-in-law is 80 years old – she did it. When I was sitting here waiting to talk to you my mother-in-law went strolling by here on her way to get a massage. Everybody feels like a million bucks, man."
What Advice Did Joe Rogan Give Dana White For Treating COVID-19?
The UFC boss went on to explain what Rogan told him to do to combat the virus, he said.
"So, Sunday I was in the steam (room), it was like 8 o'clock and I sprayed eucalyptus – I couldn't smell. I said,  'Oh shit, I know what this is.' (I) literally got out of the steam room (and) I called Joe Rogan.
"Rogan said, 'Tomorrow morning do this, this and this. First of all, take a test and make sure you're positive for COVID.' (I) did that and then he said 'The first thing that you do is you get the monoclonal antibodies – get the injection. Then do a NAD drip. Then tomorrow, get up and take the dose of Ivermectin and then another vitamin drip. Then you do the NAD and vitamin drip every other day until you're negative."'
White was amazed about how quickly Rogan's methods helped cure him and his family.
"The next day at 11 o'clock I had my taste and smell back," White said. "So Monday I did what Rogan told me to do (and by) Tuesday I had my taste and smell back. I know people that have had COVID, and it's been weeks or months and they still don't have their taste or smell back.
"This thing works," White concluded. "Now, what doesn't make sense to me is, here's the alternative. If you're like. 'Ok there's no way I'd ever do this.' Why? I don't know but whatever. Then you talk to your doctor, and you know what your doctor says? 'Go isolate yourself in a room away from everybody for 10 days and if you start to die go to the hospital.' How about we throw the kitchen sink at f*cking this thing from day one and beat it?
"So, I did what he (Joe Rogan) said. (We've) been doing it all along, me and my family have felt great and day five I tested negative for COVID."  
Do you expect Dana White to be in attendance at UFC Vegas 44 now that he is negative for COVID-19?