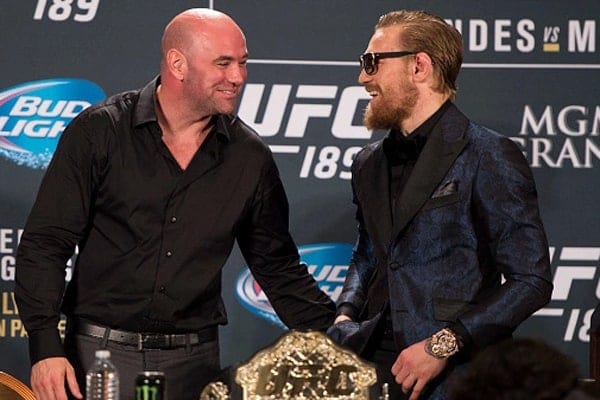 With speculation running rampant about featherweight and lightweight champion Conor McGregor's next fight, UFC President Dana White announced this morning that we won't see "THe Notorious" back in the cage until at least May.
Following McGregor's win at UFC 205 we learned the two-weight world champion was expecting his first child in the new year. White revealed in an interview with the LA Times that McGregor's doesn't want to add any stress to his long-time girlfriend Dee Devlin while she is pregnant, so he won't be returning until mid 2017.
"He won't fight before May. His girl gets super stressed out when he fights," White said. "He doesn't want her having any of that stress while she's pregnant. He's good. He should take time off. He's been fighting non-stop. Nothing wrong with him taking time off. It's good for him and her and it's good for the baby."
White seemed less than concerned about losing his cash cow for six or seven months, having been around long enough to know these types of things come with the territory of running the world's best MMA promotion.
""We've done this for 16 years, with a lot of big stars who couldn't fight or moved on – Chuck Lieddell, Anderson Silva, George St-Pierre," White said. "There's not a day in this office I don't get the question, 'What are we going to do about this guy?' Every day I turn around, I've got a reporter saying we've peaked.

"If I listened to any of that – we probably would be done."
When McGregor returns, it will have been about 18 months since he won the featherweight title without a defense, and six or seven months of keeping the lightweight title on the shelf.
There'll surely be a logjam at the top of both divisions, so it will be even more interesting to see which direction McGregor goes when he returns to the Octagon.
Is the UFC headed for a boring start to the year with McGregor on the sidelines, or will they be able to keep pulling strong numbers?