Dana White Reacts To Conor McGregor's Loss To Floyd Mayweather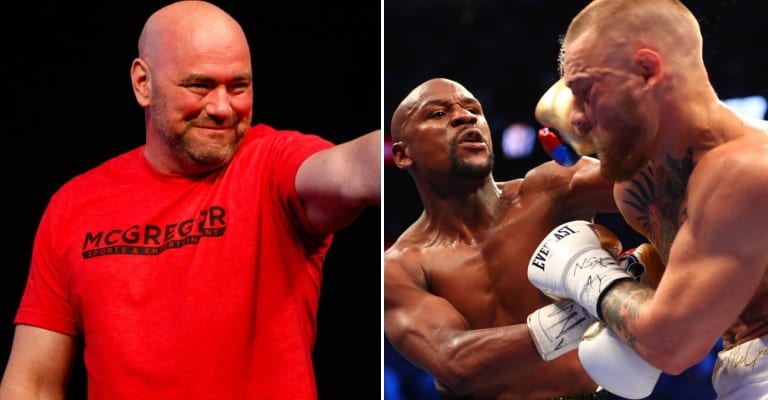 UFC lightweight champion Conor McGregor may have had a rude welcome to boxing when Floyd Mayweather stopped him by TKO in the tenth round of their massive boxing super fight (full highlights here) tonight (Sat., August 26, 2017) from the T-Mobile Arena in Las Vegas, Nevada, but he arguably won by proving he could hang with one of boxing's all-time greats in his first-ever bout.
That was just the case, especially in the early going of the fight, where the Irish superstar came out aggressive and definitely landed more shots than the patient and calculating Mayweather, who is notorious for using the early rounds to figure out his opponent's style. McGregor won the first three rounds on one ringside judge's scorecard and on many more fans' virtual cards, showing he could compete with the best in boxing without any prior experience.
That's left most believing McGregor impressed overall despite the loss, and also that he has nothing to hang his head on after battling one of boxing's all-time greats, and one who is undefeated, no less. It was exactly the sentiment that UFC president Dana White felt about his biggest star, praising his efforts in a post-fight interview with FOX Sports' Megan Olivi:
Here's our full interview with Dana White following a fight he was deeply invested in. How does Dana feel now? https://t.co/tykyc0NDdk

— FOX Sports: UFC (@UFCONFOX) August 27, 2017
In the interview, White offered his belief that McGregor looked excellent in meeting a surprisingly aggressive Mayweather in the center of the ring, and actually landed some big shots of his own early before revealing that "The Notorious" was supremely disappointed with the defeat:
"It was obviously not the fight I was expecting. I thought Conor would be chasing him around, and he would eventually catch him with some shots.

"He hit him with a lot of shots and looked fantastic tonight. I couldn't be more proud of him. (Conor) is not, he is very upset with himself. He feels like that fight was there for the taking.
As for the stoppage, which many believed was early, White said he was fine with it, and proud of McGregor overall for lasting 10 rounds with a man whom many feel is the best boxer of all time:
"He thinks the fight was stopped early, I was good with the stoppage. He's not a professional boxer. He stepped in there to fight arguably the greatest of all time, and he looked damn good doing it. I was okay with 10 rounds."
So White not surprisingly stood by his top draw even in a losing effort, an effort that could even actually be good for the UFC considering the promotion needs its biggest star more than ever in a tough year for the world's MMA boss. If he had shocked the world and somehow beaten Mayweather, there's a solid enough chance White would have never been able to showcase his skills in the UFC again.
But now, if history has proven anything, "The Notorious" will be back in camp sooner than later looking for his next massive challenge in combat sports. He'll certainly be back – who should he face when returns?