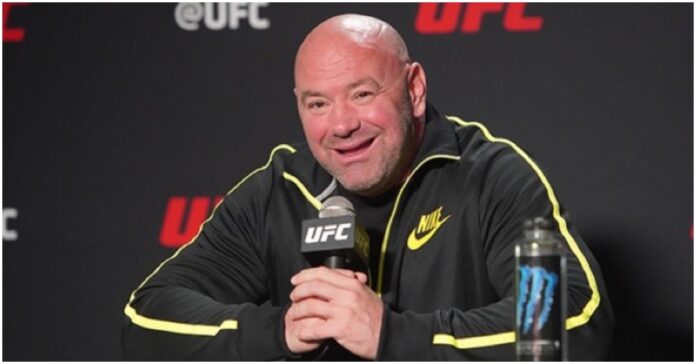 Dana White has reacted to Nate Diaz refusing to fight Khamzat Chimaev on the grounds that the UFC's newest star is a "rookie" who isn't worthy of facing him.
"They're coming at me with (Chimaev) and I'm like, 'Hold on, don't disrespect me like that, trying to offer me a fight with a rookie,'" Diaz said in an interview with TMZ Sports. "I'm cool. You got four fights in the UFC. Don't even talk my name. There are levels to this and I don't even want to hear his name."
"I'm trying to fight somebody in the UFC, like ASAP, but nobody wants to fight," Diaz continued. "I've been trying to get somebody for a minute. Anybody in the top 10 I've been trying to fight, in any weight division, whoever want it. But they all want to keep their mouths shut cause they are all scared."
Dana White Doesn't Blame Fighters For Avoiding Khamzat Chimaev
In his own interview with TMZ Sports, the UFC president responded to Diaz's comments by heaping praise on 'Borz'.
"Listen, man. Khamzat is a straight murderer," White said. "He's a killer. He's an absolute savage. And I don't blame anybody for not wanting to fight Khamzat Chimaev."
White isn't really buying Diaz's excuse for not wanting a fight with Chimaev.
"What do you think? What do you think? [SMILE GROWS WIDER] Listen, everybody in this business, everybody in this company is here because they belong here. There are no real 'rookies' per se here," White claimed. "There are guys with more experience and some guys with some less experience.

"Khamzat Chimaev is one of those guys that's willing to fight anybody in multiple weight classes on short notice," White added. "He's doing wrestling matches. If it's a fight, he's in, and he wants to fight you. And that's the reality. I mean, people can spin Khamzat however they want to and I don't blame 'em." (Transcribed by MMA News)
Who do you want to see Dana White book these two fighters against?