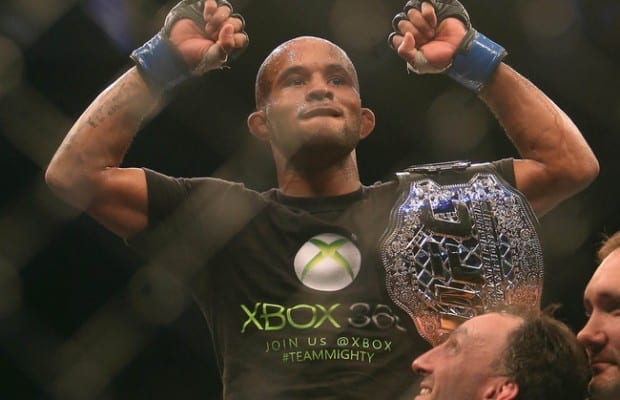 UFC 191 went down last night (September 5, 2015) live on pay-per-view (PPV) from Las Vegas, Nevada, and in the main event dominant flyweight champion Demetrious "Mighty Mouse" Johnson defended his title for the seventh-consecutive time in a rematch against the No. 1-contender John "The Magician" Dodson.
The two men met for the first time back in 2013, and Dodson challenged Johnson more than the champion has ever been challenged during his title reign. Johnson was actually dropped multiple times in the first bout, but that wasn't the case last night.
The champion proved his champion worth by pushing the pace and absolutely dominating Dodson. Dana White agreed, saying that "Mighty Mouse" shut "The Magician" down. White also said that Johnson is the pound-for-pound greatest fighter right now:
"This was the fight to make in this weight class and Dodson had the power, the speed, the experience and got destroyed; literally, he got shut down," White said on FOX Sports 2's UFC 191 post-fight show. "Joe Rogan's probably right. 'Mighty Mouse' is probably the pound-for-pound greatest fighter in the sport. He looked fantastic."
Dodson is widely considered to be the top flyweight aside from Johnson, and White said that it should've been a close fight, but it wasn't, as it was a one-sided beating from "Mighty Mouse", who White continued to praise:
"The guy is an incredible fighter, he wanted this fight really bad and he went in and he imposed his will and he won every single round by a landslide," White said. "I know he's probably disappointed that he didn't get the finish because I know he really wanted to finish Dodson, but Dodson was the man. Dodson was the guy. This fight should have been a knockdown, drag-em-out war. It should have been a close fight and it wasn't any of that."
The flyweight division is often underappreciated, and overlooked, and it could be due to a lack of contenders for Johnson. Many have now said that the champion has actually cleaned out the 125-pound division, but White assures that there will always be a new contender:
"There's always a contender," White said. "We are working on something right now and when it happens you'll agree."
Who should Johnson face next?
If you enjoyed this story, please share it on social media!